Welcome back to another Healthy Weekly Meal Plan! This is #14 and it's a GOOD one. 🙂 It's full of yummy breakfast, lunch, dinner, snack and dessert recipes for you to make this week!
Happy Halloween! What are you doing to celebrate the holiday? I'll be making Hot Dog Mummies for my boys and then taking my two little guys around our neighborhood while my oldest passes out candy. It's weird that I have a kid that's old enough to not want to trick or treat. My 11 year old will probably go trick or treating with some of his friends from school. After all the candy is passed out, I'll be watching a scary movie marathon with my hubby and eating some Caramel Cashew Popcorn (SO good!). What are your plans for the night? Comment and let me know!
Myself along with 5 other amazing bloggers have come together to make a collaborative meal plan every week to take all the guesswork out of meal planning and saving you the hassle of trying to eat healthy. We have put together a full week of yummy and easy entrees that you and your family will love!
Stop back every Saturday morning to get your weekly meal plan full of daily entrees as well as a breakfast, lunch, snack and dessert! Just click on the photo or recipe name to see the recipe. Week 14 is full of healthy comfort food to help you warm up from all this cold weather.
~ HEALTHY WEEKLY MEAL PLAN ~
A sandwich that is full of flavor! Farmers Market Roasted Vegetable Sandwich with Skinny Pesto is loaded with fresh vegetables creamy provolone and layered with a healthy pesto sauce!

An insanely easy FOUR ingredient meal! You will love this Slow Cooker Salsa Chicken! Serve with chips, salsa, sour cream, cheese, or rice. A perfect meal for Taco Tuesday!

These Sesame Tuna Lettuce Wraps are healthy, easy, and are on the table in under 20 minutes, prep time included!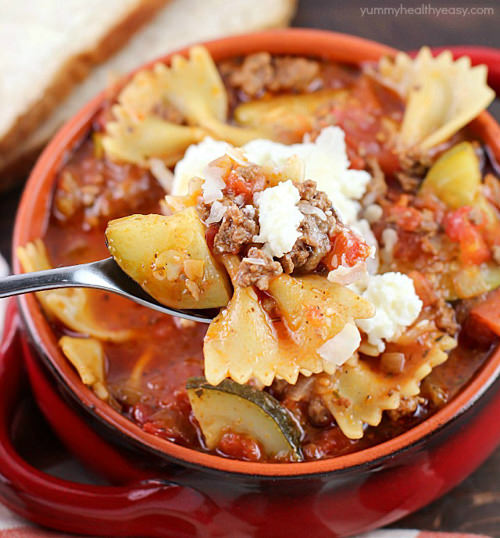 Celebrate cooler weather with an One-Pot Easy Lasagna Soup! It's the perfect comfort food dinner that's a family-pleaser, and all cooked in one pot!

Dinner
This Chicken BLT Salad is so fresh and filling for a great meal on a summer day with it's flavorful tangy citrus tomatillo dressing!
Side Dish
Skinny Bruschetta Zucchini Chips pack a punch of flavor from a few secret ingredients! This is a must try for sure!

LUNCH
Easy Roasted Red Pepper and Tomato Soup filled with fresh herbs, fire roasted tomatoes, garlic and a splash of cream, this truly is the best tomato soup ever! The best part is that it only takes 25 minutes to make and is the best for winter since it uses sweet canned tomatoes!
DINNER

These Buffalo Chicken & Sweet Corn Tostadas are loaded with bold flavors from buffalo chicken, creamy bleu cheese and crunchy sweet corn and green onions!

DESSERT
This Skinny Strawberry Daiquiri Pie is the perfect frozen treat. Loaded with sweet strawberries, fresh lime juice and a lightened up pretzel crust, you'll be feeling like your sipping on your favorite cocktail.

BREAKFAST
You won't believe the incredible flavor in these Baked Pumpkin Donuts… especially since they're so easy to make! Every bite is soft, moist and full of pumpkin & spice flavors. One of the best donut recipes out there!
SNACK
No Bake Cinnamon Pecan Granola Bars combine whole grain rolled oats, crunchy brown rice krispies, pecans and cinnamon to make a sweet wholesome snack that are great for a lunch box or on the run, meal option!
DINNER
This creamy Roasted Fennel Cauliflower Soup will be the star of the fall! Packed with rich flavor then topped with chili infused oil and crispy bacon – only 156 calories a serving!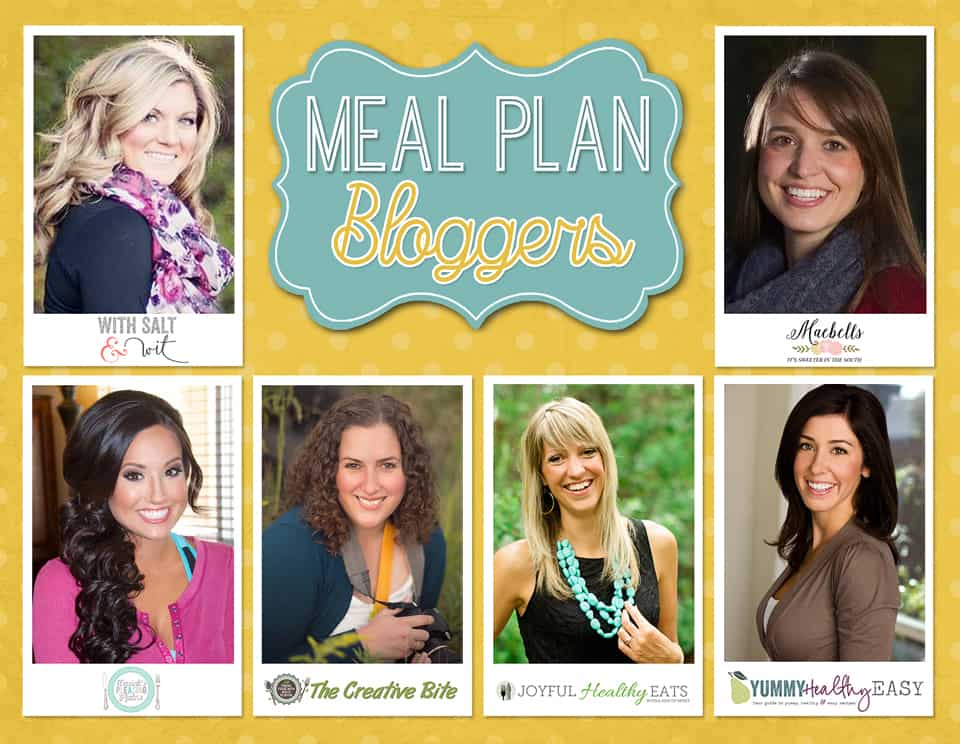 With Salt & Wit | Maebells | Mariah's Pleasing Plates | The Creative Bite | Joyful Healthy Eats | Yummy Healthy Easy