Save time and money by planning out your meals each week! We've made it easy on you by creating a Healthy Weekly Meal Plan every Saturday. Week #19 is full of healthy goodies you won't be able to resist!
Hi! How's your weekend going? Are you getting ready for Christmas? I'm super behind on Christmas shopping. I need to get on it! I feel like my shopping list keeps getting longer instead of smaller. In good news – we're getting our Christmas tree today and I'm SO excited to decorate it! Do you have yours up yet?
After we get our tree up, I'm going grocery shopping. I always go on Saturdays after the Healthy Weekly Menu Plan is up. This is week #19 and it has some of my favorite meals! Pasta, tacos, chili, potstickers, oatmeal… droolfest over here! I hope you're enjoying these weekly meal plans as much as I am. 🙂
Be sure to stop back every Saturday for your weekly meal plan with a fix of daily entrees as well as a breakfast, lunch, snack and dessert! Just click on the photo to see the recipe.
~ HEALTHY WEEKLY MEAL PLAN ~
This Double Cheese White Pizza has all the flavors of a pizza with parmesan, mozzarella and cherry tomatoes, mixed with quinoa and tossed in a cheesy cream sauce for a simple and healthy white pizza makeover!
Spice up your Taco Tuesday with these Creamy Green Chile Chicken Tacos.5 ingredients and a slow cooker are all you need to make the chicken filling for these creamy, healthy, and delicious tacos!

Dinner
Dinner practically makes itself with this crockpot sweet potato sausage chili that cooks up entirely in the crockpot. Totally the best kind of comfort food!


Winter Kale and Wild Rice Salad is a healthy and filling dinner salad with apples, dried cranberries, wild rice, kale and so much more goodness all finished off with a homemade vinaigrette.
Side Dish
Enjoy a warm cup†of this yummy Crock Pot Applesauce as a sweet side or dessert with your salad!

Ultimately creamy and packed with sausage and a mild pumpkin flavor, this pumpkin sausage alfredo penne is going to become your favorite fall comfort food!

BREAKFAST
Cinnamon Bun Overnight Oats are a cinnamon bun lovers dream! Flavored with cinnamon, a bit of vanilla and greek yogurt! An easy breakfast idea that you can make the night before!
SNACK
Filled with maple syrup, pumpkin spice mix, pepitas, almonds and cranberries this No Bake Pumpkin Spice Granola Bar Recipe will make you leave the store bought granola bar days behind!
DINNER
Buffalo Chicken Potstickers are a surprisingly easy and healthy dinner with chewy wrappers filled with lean ground chicken, vegetables and buffalo sauce served over a crunchy bleu cheese broccoli slaw. Skip the takeout and make this delicious and healthy version of potstickers!

LUNCH
Avocado Chickpea Salad Sandwich is a light and healthy sandwich made with smashed chickpeas, avocados and herbs. Yum!
DINNER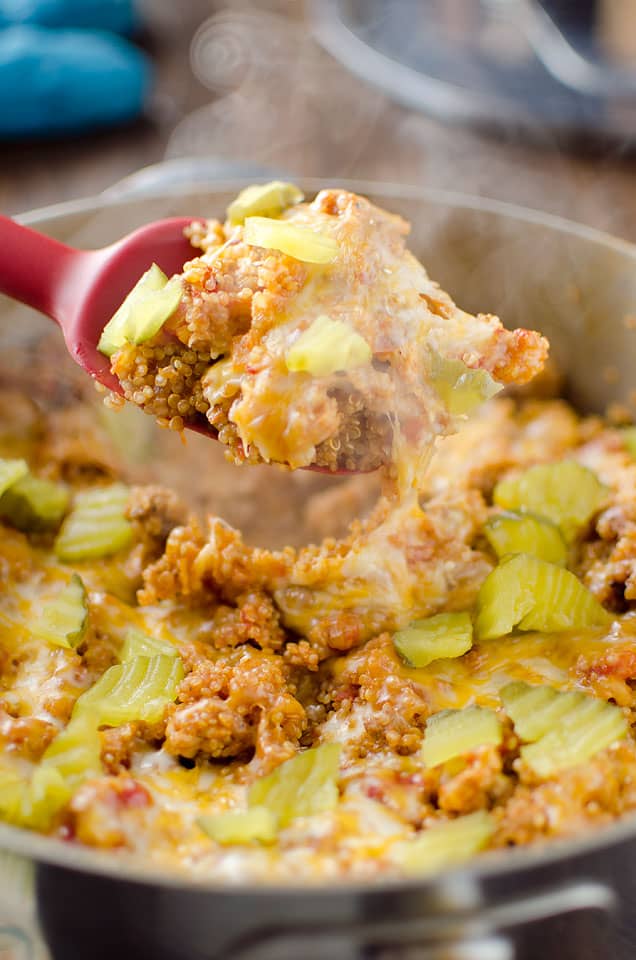 Light Cheeseburger Quinoa Skillet is a healthy dinner idea loaded with nutritious quinoa, lean meat and packed with bold cheeseburger flavor! This easy skillet dinner gives you all of the delicious flavors of a cheeseburger in a guilt-free and protein packed meal.
DESSERT
The perfect sweet treat this fall, tastes just like Apple Pie .. but better! And it takes half the time! Baked Apples topped with a slightly sweet creamy Cinnamon Mascarpone Cheese then garnished with Toasted Coconut.