Healthy Weekly Meal Plan #43 is packed full of healthy dinners as well as a healthy lunch, snack, side dish and dessert, too! You won't want to miss it – get planning!
It's that time again – Healthy Weekly Meal Plan time! Happy Saturday friends! What are you up to today? This morning I'm attending my Grandfather's funeral. My family and I drove all last night, getting in at midnight, to Mesa, Arizona where I'm from. We'll go to his viewing and funeral and then a luncheon afterward.
People keep telling me how sorry they are for my loss, but it's actually a happy day. My grandpa was 96 years old! He had 9 children, 62 grandchildren and 130+ great grandchildren. That's an amazing legacy! My Grandma passed away when I was 12 years old. He has missed her so much and talked about her all the time. We would go visit with him and he would tell us stories from long ago and then say how much he wanted to be with her again. I know he's with her on the other side! I'm so happy to be a part of the wonderful family I'm from. Even though our trip is super short, I'm glad to spend the time with my siblings and extended family.
When I get home, I'll be planning out my grocery list to make these yummy meals in this weeks Healthy Weekly Meal Plan! There are a few that I can't wait to make! We have zero food in my house so it will be nice to stock up on healthy ingredients. I hope you're enjoying these meal plans as much as I am! Enjoy!
*Click on the picture or the underlined hyperlink to get to the recipe. 🙂
~ HEALTHY WEEKLY MEAL PLAN ~

DINNER
Southwestern Quinoa Stuffed Peppers Recipe areápasilla peppers filled with black beans, quinoa and spices then cooked in a flavorful tomato sauce. Vegetarian, gluten free, clean-eating and absolutely delicious!
SNACK
Make a batch of these Blueberry Almond Energy Bitesáto start the week for aáhealthy, portable, one bite snack perfect for eating before or after a workout!
Spinach and Artichoke Skillet Zucchini Lasagna is a healthy, low-carb take on lasagna! Zucchini noodles mixed with spinach, artichokes and plenty of cheese makes this one pot dish a crowd pleaser!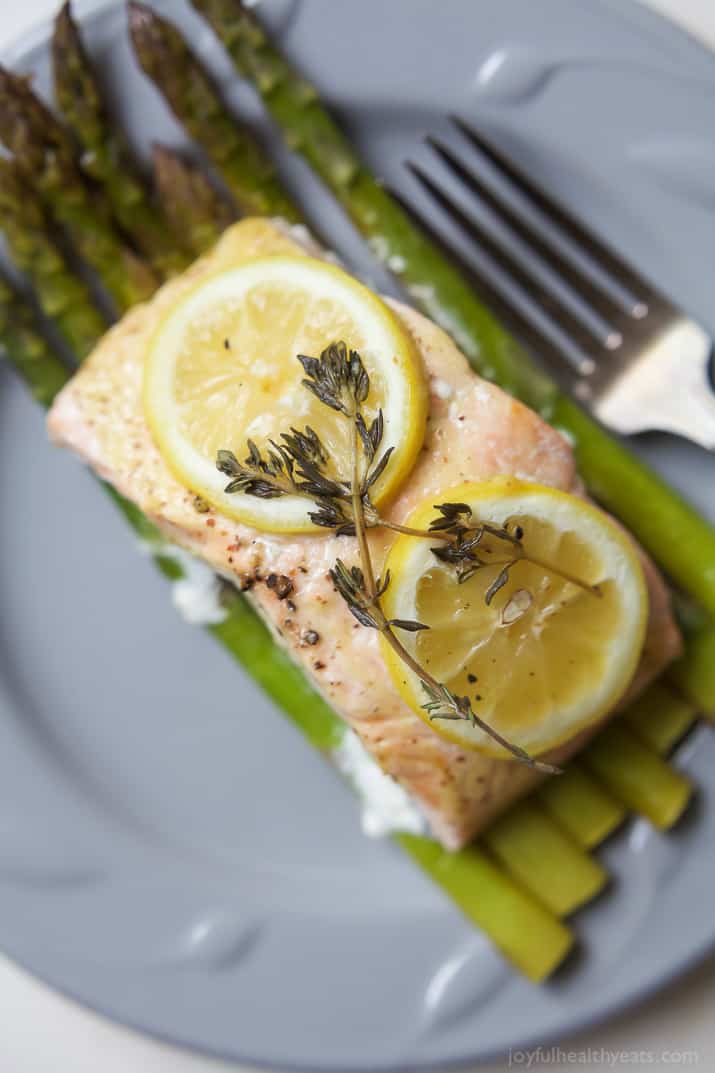 Citrus Asparagus & Salmon in Foiláis so easy to make, loaded with roasted garlic and citrus flavor, plus clean up is a breeze! Dinner has never been easier!

Chicken salad lettuce wraps lightened up with healthy avocado and NO mayonnaise at all! These wraps are going to quickly become a favorite.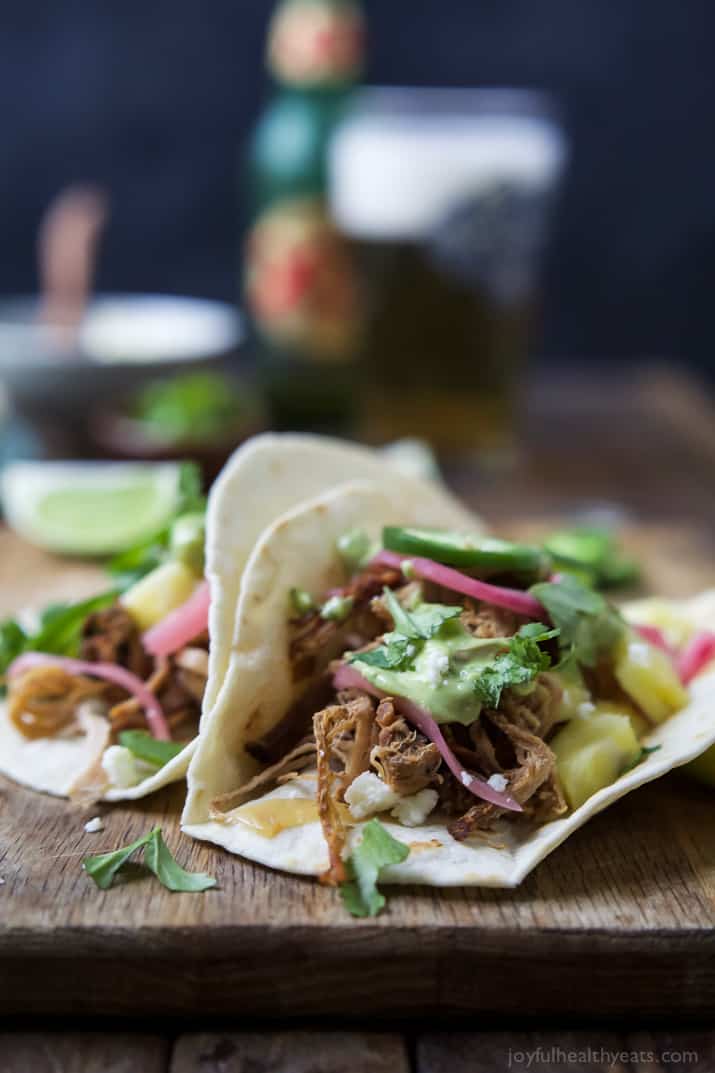 Crock Pot Pork Carnitas Tacos are the easiest pork carnitas you'll ever make with the BEST flavor from a secret ingredient. Then these tacos are topped with a creamy Cilantro Lime Avocado Crema for the ultimate bite!
BREAKFAST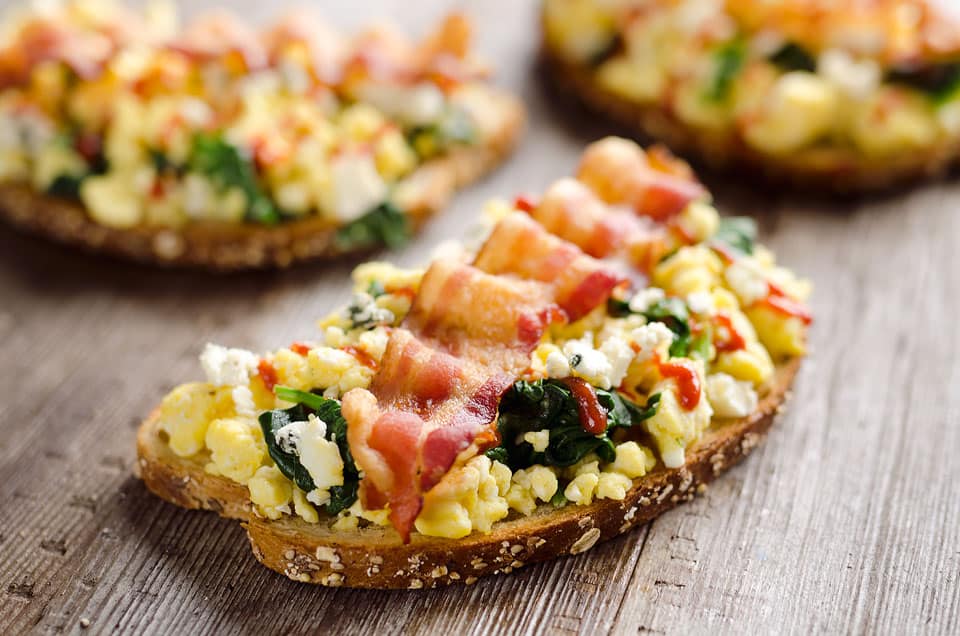 Sriracha Bacon Bleu Cheese Breakfast Toasts are a light meal bursting with bold and spicy flavors. Fluffy scrambled eggs and spinach are piled on whole wheat toast and topped with a slice of bacon, bleu cheese crumbles and sriracha for a breakfast you won't soon forget!
LUNCH
Avocado dressing (southwest style!) is nestled on the bottom of this delicious mason jar salad with zucchini noodles on the top and chicken, veggies and black beans tucked in the middle. A delicious and healthy low-carb, low-sugar lunch prepared ahead of time and eaten on-the-go!
DINNER
Sauteed Chicken Cutlets with Honey Mustard Pan Sauce is a healthy low-carb meal you will love! You can never have too many easy chicken recipes, especially when they're made in only one pan!
SNACK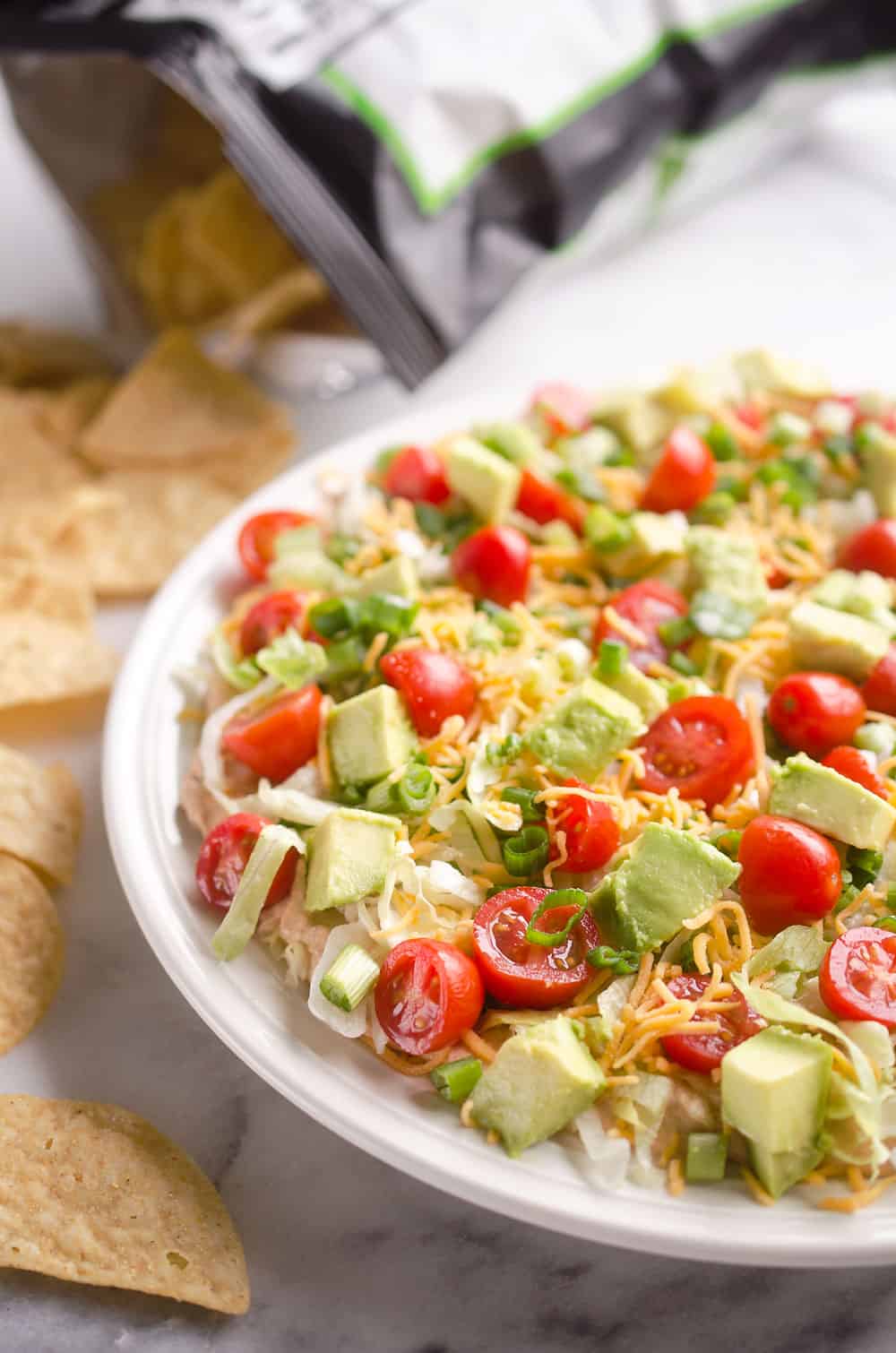 Skinny Taco Dip is a light and zesty appetizer that is a serious crowd-pleaser! This easy snack is lightened up with Greek yogurt, salsa and light cream cheese and topped with healthy avocado, tomatoes and green onions! Serve with your favorite chips for a treat everyone will love.
DINNER
Spaghetti carbonara with a healthy spring twist! These easy noodles are extra-creamy and loaded with roasted broccoli and lots of lemon goodness.
DESSERT
This Spaghetti carbonara has made all my spring dessert dreams come true! A citrus cookie crust topped with vanilla greek yogurt and fresh berries! The ideal and simple dessert to impress any guest!