Healthy Weekly Meal Plan #74 – check out this week's healthy recipes! Lots of dinner ideas plus a lunch, snack, side dish and dessert. You won't want to miss this meal plan!
Merry Christmas Eve!! I hope you're having a wonderful holiday break! I am loving it so far. My husband has next week off and I'm officially done Christmas shopping. Yay! I can't wait for my kiddos to get their Christmas gifts. Christmas is so much better when you have kids. They really see the magic in the holiday and it makes it so much more special.
What are your meal plans for this weekend and next week? Are you still trying to eat healthy even though it's the holiday season? I am. I hate when January comes and you feel like you have to lose the holiday weight. That's why I love these Healthy Weekly Meal Plans! It really makes meal planning and eating healthy SO easy! All you have to do is do the grocery shopping and you have a healthy dinner recipe for each night plus a healthy breakfast, lunch, snack, side dish and dessert recipe to use for the week. So easy!
So be sure to stop back every Saturday for your Healthy Weekly Meal Plan fix of daily entrees as well as a breakfast, lunch, snack and dessert! Just click on the photo or link to see the recipe! Happy Holidays!
~ HEALTHY WEEKLY MEAL PLAN ~

BREAKFAST
Studded with tender apple pieces and covered with tons of buttery streusel and glaze, this fall-style banana bread is so addicting, you might eat the entire loaf by yourself!
DINNER
Shaved Brussel Sprout Salad filled with apples, pomegranate, candied pecans, and white cheddar cheese then tossed with a light Lemon Vinaigrette. This Brussel Sprout Salad is the perfect side dish for the holidays!

Pressure Cooker Chicken Tortilla Soup is a healthy and easy 30-minute soup recipe made in your Instant Pot that is bursting with bold and spicy flavors!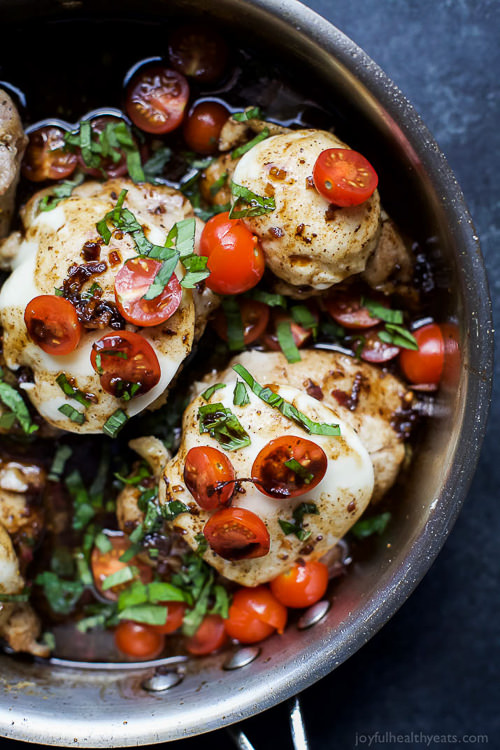 One Pan Balsamic Glazed Caprese Chicken – an easy recipe done in less than 40 minutes. Tender juicy Chicken cooked in a balsamic glaze. I guarantee your family will be begging for you to make this again!


Everything you love about pizza…in the form of a healthy Italian pasta salad! This super-easy salad is so simple to throw together, it will be perfect to make ahead or to have leftovers for!

This Broccoli, Chicken and Cheese Wild Rice Casserole is a healthy and delicious dinner that can be made ahead of time, perfect for busy nights! Whole grain, lightened up with Greek yogurt and plenty of cheese so kids will love it too!

NEW YEAR'S EVE DINNER
Slow Cooker Hawaiian Pork Burrito Bowls are a dinner saver as they cook all day in a homemade enchilada sauce then topped with sautéed peppers and juicy, seared pineapple!
COCKTAIL
This Sparkling Lemon Drop Martini is much more than a shake and a stir! Fresh lemon juice, vodka and topped with sparkling water make this drink tart, sweet and easy to drink!
DESSERT
Baked apple chips sprinkled with cinnamon and sugar are perfect for dipping into this creamy cookie inspired snickerdoodle dessert dip!

LUNCH
Avocado Chicken Salad Wrap – a perfect blend of avocado, Greek yogurt, chicken, celery, grapes, red onion & spices to make your lunch complete! This healthy recipe only takes a few minutes to whip up.
SNACK
Chocolate & Pistachio Covered Mangoes are an easy and healthy treat to satisfy your sweet tooth! With only 3 simple ingredients, this delicious snack comes together in no time and is perfect for on the go.
DINNER
Let's start the new year off right with these Salmon Skewers! They are tossed in an easy garlic-lemon sauce and then grilled. The result? A crazy delicious, tender, lemon salmon that is like heaven on a stick!
With Salt & Wit | Recipe Runner | Whole & Heavenly Oven | The Creative Bite | Joyful Healthy Eats | Yummy Healthy Easy