Healthy Weekly Meal Plan #83 has the yummiest of healthy dinner recipes included! There's also a healthy breakfast, side dish, lunch and dessert recipe included, too! You will love this deliciously healthy menu plan!
Happy Saturday!! We have an insane day planned for today. It's our Baseball Opening Day! Our little league has the cutest parade every year to celebrate! Every team has their own truck and they decorate it with all sorts of cute decor, usually in line with their little league baseball team.
My husband is coaching my younger two sons' team (the Whitecaps) so we're doing a light blue and navy blue theme on our float. My older son is with the tigers so I'm excited to see how his float turns out! After we decorate the floats, the coaches drive up the few miles to the field and let the kids ride in the back of the float or trailer. It is so cute to see all the different designs and the kids love riding in the back of the trucks!
After, there are games and other fun activities for the kids to do. It's really a fun day for the whole family! After all the fun and games, I'm heading to the grocery store to get all the ingredients to every meal in my meal plan. I'm so super excited for all the meals in this week's Healthy Weekly Menu Plan! There are so many incredible recipes that I'm dying to make this week! I hope you're enjoying the Healthy Weekly Meal Plans as much as I am!
Stop back every Saturday for your Healthy Weekly Meal Plan fix of daily entrees as well as a breakfast, lunch, snack and dessert! Just click on the photo or link to see the recipe.
~ HEALTHY WEEKLY MEAL PLAN ~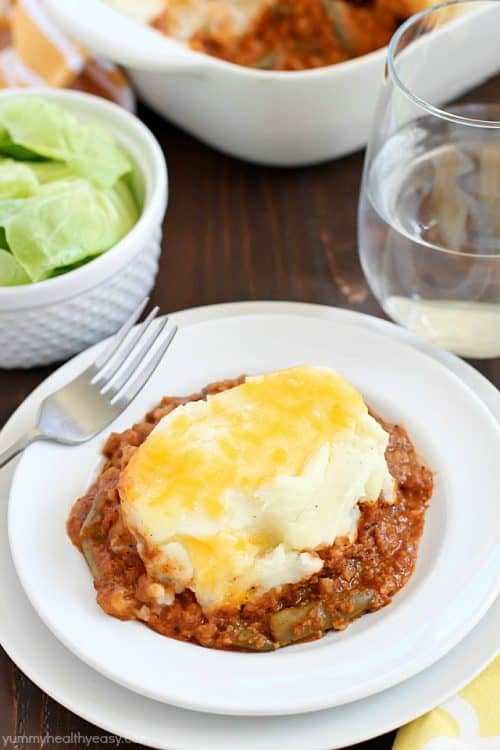 A super easy Vegetarian Shepard's Pie recipe (also known as cottage pie) that won't take you long to make and tastes delicious! A comforting meal that's meat free and fabulous. ?

MAIN DISH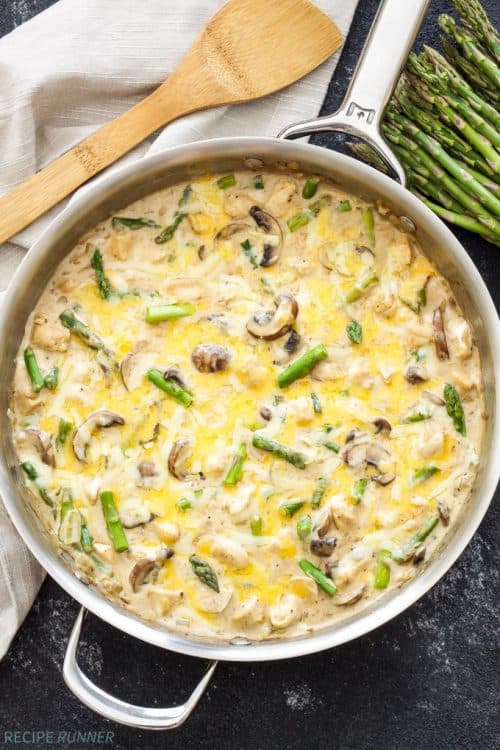 Comfort food you grew up with gets a one pot, lightened up, spring makeover! This One Pot Creamy Chicken and Asparagus Casserole is easy to make and perfect for a weeknight family dinner!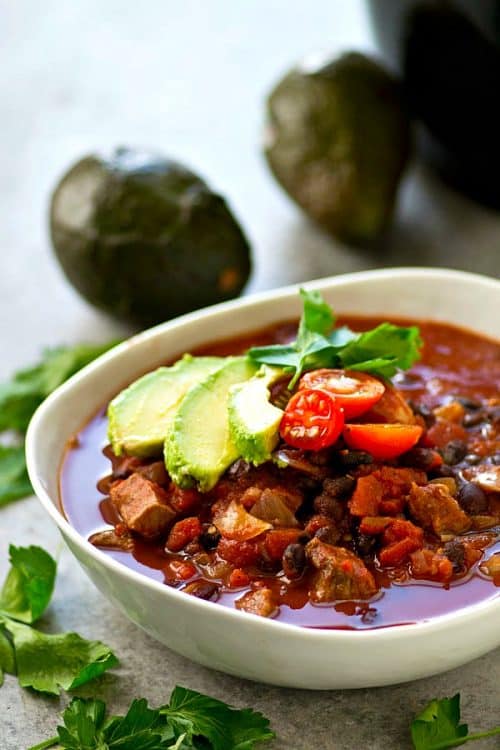 Let your crockpot make your game-day chili for you! This flavorful steak chili is unbelievably cozy and the beef is fall-apart tender.—Only 10 minutes prep time, then your crockpot does all the work!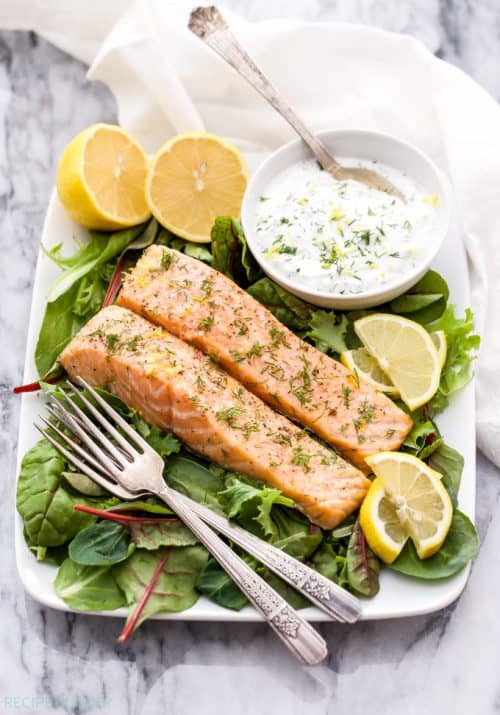 Sometimes the more simple a meal is the better it tastes and that's the case with this Baked Salmon with Lemon Dill Yogurt Sauce! This easy, fresh, flavorful and healthy dinner will be on the table in less than 30 minutes!

DINNER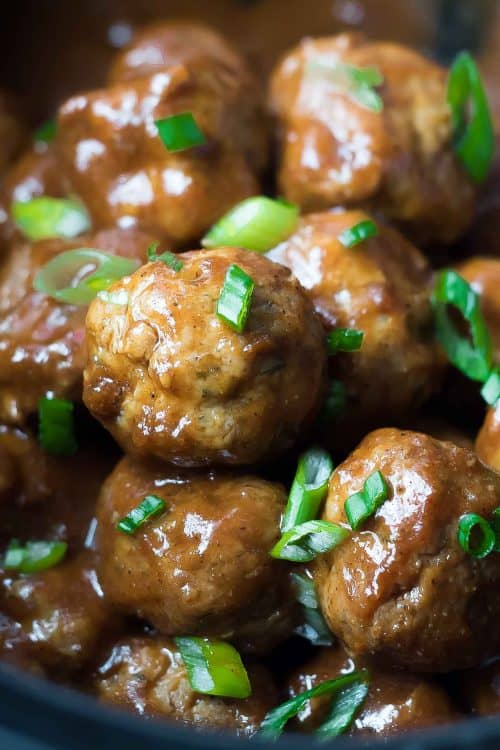 Honey Chipotle Slow Cooker Meatballs are the absolute perfect party prep appetizer! a naturally sweetened sauce is whipped together and thrown into a slow cooker to create a luscious sauce that coats every inch of the chicken meatballs!
SIDE DISH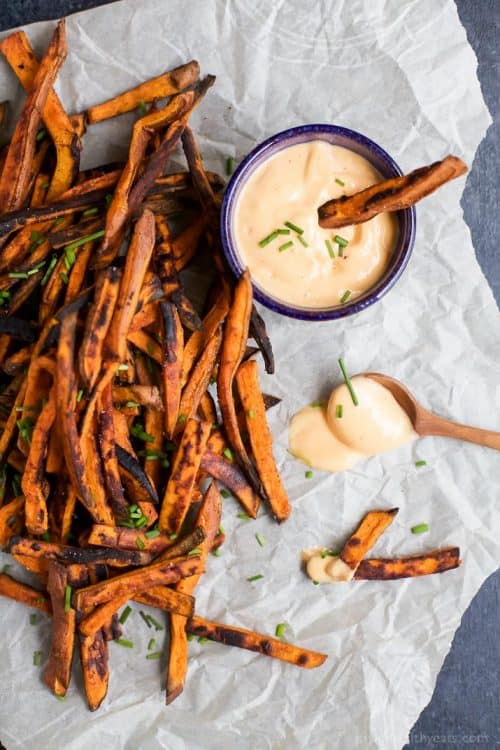 Crispy BAKED Chipotle Sweet Potato Fries – these babies are gonna be your new favorite healthy dinner side. Paired with a Honey Sriracha Aioli that you'll want to slather on everything!

BREAKFAST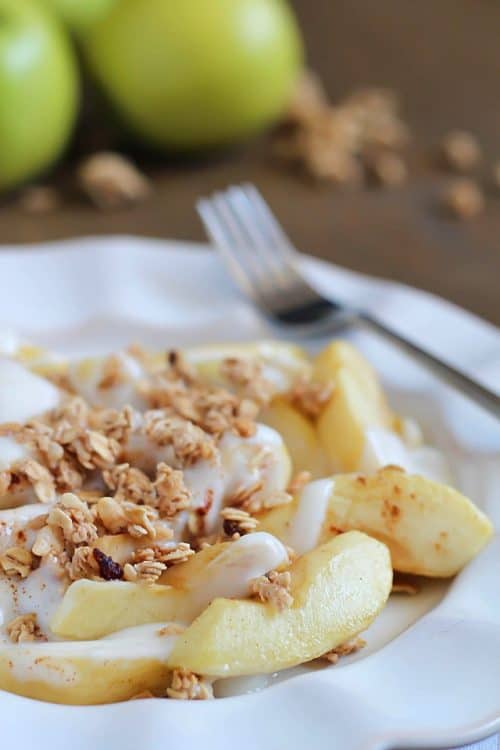 Baked Apples tossed in maple syrup and served with spiced yogurt and granola. Easy and healthy dessert, snack or breakfast!
DINNER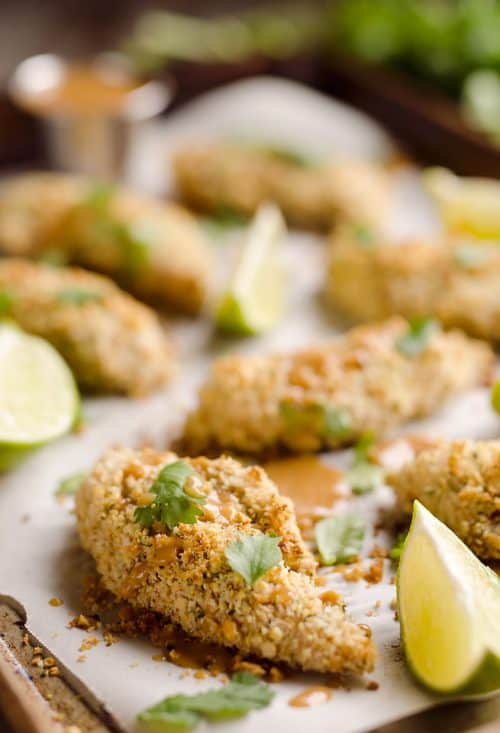 Light Thai Peanut Chicken Tenders are a healthy dinner idea bursting with bold and spicy Thai peanut flavors, paired with a simple two-ingredient sauce with creamy coconut milk!
DESSERT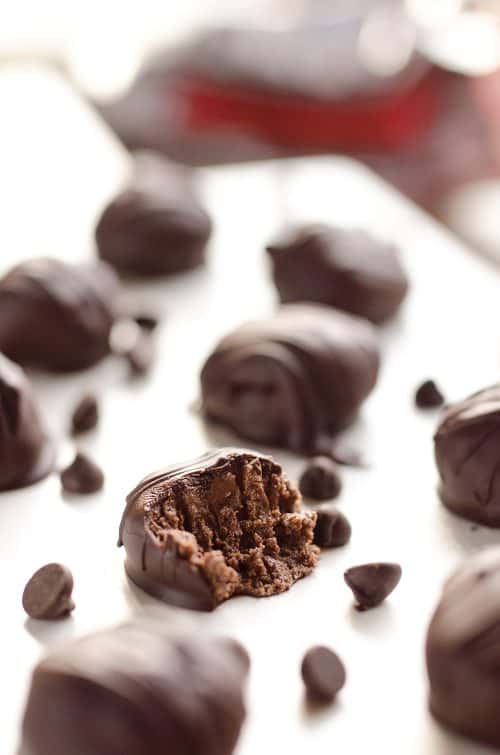 Protein Dark Chocolate Truffles are an easy and delicious treat made with protein powder and dark chocolate peanut butter for a healthy snack that tastes amazingly decadent!

BREAKFAST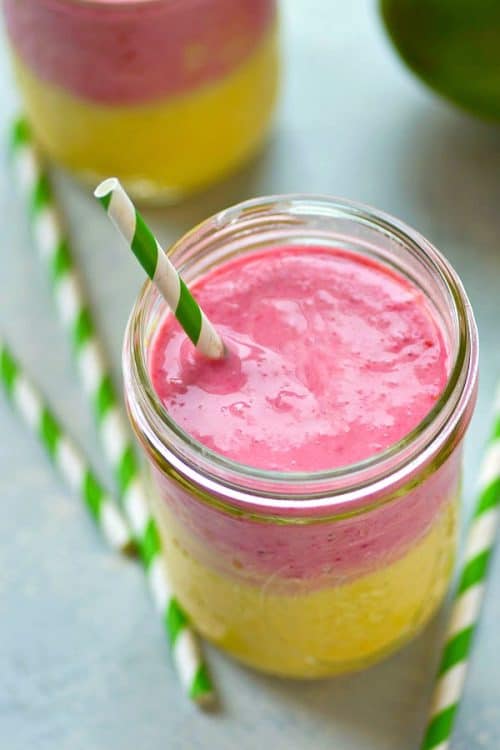 This pretty layered mango raspberry smoothie is SO easy to blend up you'll want to make it every single morning! The two colorful layers of smoothie goodness will start any morning off right.
LUNCH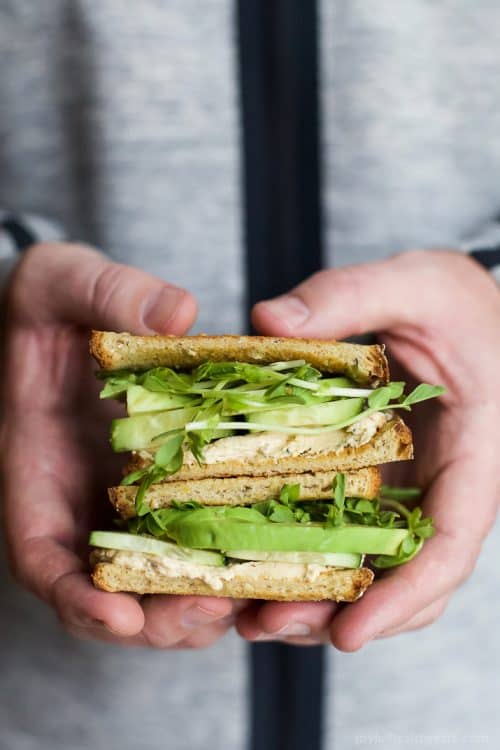 This heart healthy CUCUMBER AVOCADO SANDWICH slathered with an Herb Goat Cheese is the perfect lunch or quick dinner recipe. Believe me, you're gonna be in love!
DINNER
Shredded Brussels Sprouts and Kale Salad with parmesan and bacon is a delicious and healthy salad that is filled with sweet cranberries, salty almonds, and bacon! a perfect salad for meal prepping!
With Salt & Wit | Recipe Runner | Whole & Heavenly Oven | The Creative Bite |