This week's Healthy Weekly Meal Plan #88 has a healthy dinner recipe for every day of the week plus a healthy breakfast, lunch, side dish and dessert recipe! This is the easiest way to eat healthy through the week – we've done the hard work for you! 🙂
Happy April Fool's Day!! Today is my little guy's 7th Birthday! So I don't have 2 six year old's anymore. 😉 I seriously can't believe he's already 7! I was looking through pictures and it feels like he was just a baby. He is so excited to be seven though. Happy Birthday Brock!!
We have a fun day planned for him. We're going SAILING! Our next door neighbor has a yacht and he's invited our family to go sailing with him. It's such a gorgeous day, it's going to be a lot of fun. Follow me on Instagram and Snapchat to follow along with me today! After sailing, we'll go directly from sailing to our two youngest boys' baseball game and then the airport. My oldest is going to see his dad in Utah for Spring Break this next week. He's really excited because he'll be fishing the whole time, lol!
Anyway, it's going to be a busy day but I'm excited! What are your plans? Are you going to use our meal plan to plan out your meals for the week? Stop back every Saturday for your weekly meal plan fix of daily entrees as well as a breakfast, lunch, snack and dessert! Just click on the photo or link to see the recipe.
~ HEALTHY WEEKLY MEAL PLAN ~

LUNCH
If you love fried rice, but want something a little better for you, then you have to try this Kimchi Cauliflower Fried Rice! Low carb, gluten-free and an extra kick of flavor from kimchi!
DINNER
This Grilled Artichoke & Mushroom Lemon Pasta is so simple and absolutely delicious. It's the perfect segway into spring.

Homemade STEAK FAJITA BURRITO BOWLS filled with quinoa, fajita steak, avocado and a cilantro lime chimichurri sauce you'll adore. This quick Burrito Bowl is done in 30 minutes and is sure to be a favorite!

This clean-eating Grilled Lemon Rosemary Chicken recipe is easy to make, healthy and bursting with lemony flavor!

If you want something quick, easy, healthy, and flavorful for dinner, you have to try this Sheet Pan Roasted Shrimp & Veggies!

BAKED EGGS IN AVOCADO with crispy bacon and a Sriracha drizzle! The ultimate Paleo Breakfast or brinner, high in protein & fiber and loaded with flavor! I guarantee you'll be addicted after the 1st bite!
SNACK
Spicy Kale Chips are beautifully crisp and loaded with bold chipotle flavor for a healthy 5 ingredient vegan snack.

DINNER
These kickin' chicken salad lettuce wraps are packed with the perfect balance of zingy chipotle flavors and sweet mango.—they're SO easy to throw together in less than 10 minutes!
DESSERT
Skinny Mini Mint Cheesecakes with an Oreo crust! This lighter mint cheesecake recipe is super easy to make and has less calories than a regular cheesecake (only 148 calories per cheesecake!) plus built-in portion control with the muffin size!

BREAKFAST
Light & Fluffy Banana Protein Pancakes are a healthy breakfast with 5 simple ingredients that taste amazing and fill you up! Egg whites, protein powder and ripe bananas make up these low-fat and low-carb pancakes, for a complete and wholesome meal under 200 calories.
LUNCH
A new twist on my favorite Greek salad! These Greek Chicken Salad Lettuce Cups are low in carbs, high in protein and perfect for a light, fresh weeknight dinner or lunch!
DINNER
This loaded sun-dried tomato penne skillet is an entire dinner-in-one and so flavorful and easy to throw together, it'll quickly become a weeknight dinner regular!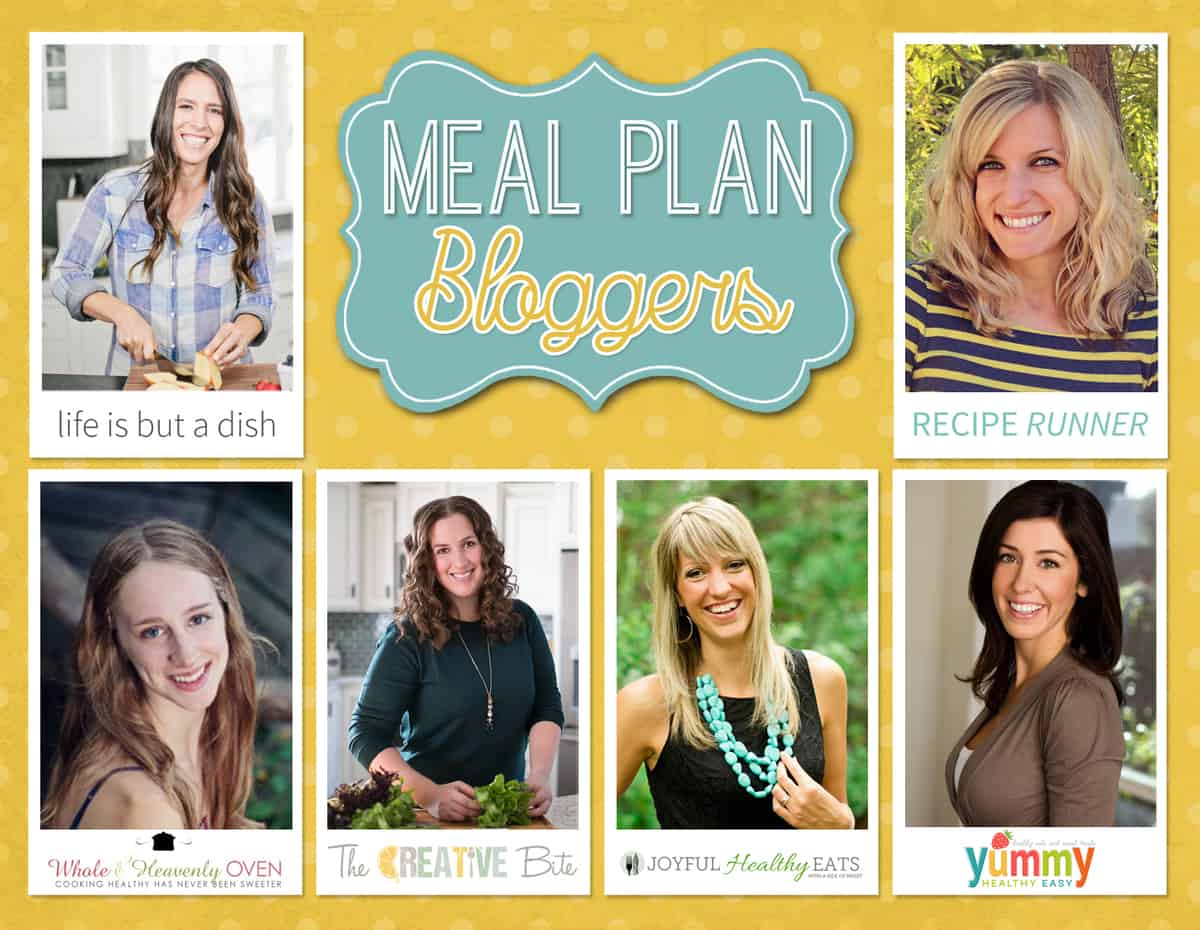 Life is but a Dish | Recipe Runner | Whole & Heavenly Oven | The Creative Bite | Joyful Healthy Eats | Yummy Healthy Easy