Healthy Weekly Meal Plan #90 is full of delicious dinner recipes for every night of the week plus a healthy breakfast, lunch, snack and dessert, too!
Happy Saturday! What are you doing today? We have back to back baseball games for my three younger ones and a bunch of random errands to run. Lot's of Easter prep going on over here! We've yet to dye Easter eggs so hoping to do that tomorrow! What are your plans for Easter Sunday? We have family coming over for dinner after church to celebrate and hopefully a fun Easter egg hunt after.
Today I still have to go to the store to grab Easter dinner ingredients (hello yummy Brown Sugar Glazed Ham and Potato Casserole!) and meal ingredients for this next week. This week went by fast! I'm loving this weeks Healthy Weekly Meal Plan! Lots of delicious dinner recipes for every night of the week. Then just for fun, we through in a healthy breakfast, lunch, side dish and dessert, too! 🙂
Be sure to stop back every Saturday for our Healthy Weekly Meal Plan full of daily entrees as well as a breakfast, lunch, snack and dessert! Just click on the photo or link to see the recipe!
~ HEALTHY WEEKLY MEAL PLAN ~

This simple, vegetarian Mexican Lasagna is a family favorite recipe! It hits that comfort feeling you're looking for, just with healthier ingredients like brown rice, spinach, beans, and peppers!


These Crispy Fish Taco Bowls with Rainbow Slaw are packed full of flavor and perfect for busy weeknights. Take your favorite whole grain and top it with crispy baked fish fillets and a crunchy cilantro honey lime flavored slaw. You'll love these hearty taco bowls!
BEVERAGE
Thyme Blackberry Margaritas, as gorgeous as they are delicious! This is one smooth margarita with a hint of citrus, blackberry flavor and subtle notes of fresh thyme! You're gonna fall in love!

Grilled Chicken Caesar Salad – with a simple marinade recipe, this grilled chicken is tender and delicious! Served over romaine, shaved parmesan, homemade croutons & Marzetti Simply Dressed Caesar Dressing = YUM!!

MAIN DISH
These super-creamy One-Pot Alfredo Zucchini Noodles get TONS of flavor kicked up by fresh pesto and tender chicken cubes makes it an entire carb-free meal! This one-pot dinner is the comfort food your weeknight needs!
SNACK
This super-moist Oatmeal Chocolate Chip Cookie Banana Bread tastes like an oatmeal chocolate chip cookie and banana bread all rolled into one! Watch the entire loaf disappear before your very eyes…

Teriyaki Chicken Kabobs are a healthy low-carb dinner bursting with flavor. These easy kabobs are prepared on the grill or in the oven and are loaded with lean chicken, bell peppers, onions and juicy pineapple for a balanced meal.

DINNER
Slow Cooker Shredded Beef Sandwiches are one of my family's favorite crock pot dinners! Cooked right in the crock pot with an easy & flavorful sauce, makes this beef roast tender and perfect for filling sandwiches/buns!
DESSERT
Light Berry Angel Food Cake is an easy and delicious 15 minute dessert with only 5 ingredients. Angel food cake is layered with a luscious white chocolate and coconut Cool Whip layer and topped with fresh berries for a guilt-free low fat treat!

BREAKFAST
This Lemon Blueberry Olive Oil Cake uses white whole wheat flour, greek yogurt, olive oil, and it's topped with an amazing coconut whipped cream, fresh berries, chopped almonds, and a drizzle of honey. What's not to love? It's the perfect brunch cake!
LUNCH
Mediterranean Quinoa Stuffed Tomatoes – an easy, light, and refreshing vegetarian recipe that's only 142 calories! The perfect grab and go lunch!
DINNER
One Pot Creamy Lemon Goat Cheese Pasta with Chickpeas and Asparagus is the perfect healthy, vegetarian, comfort food dinner for weeknights! Made with whole wheat pasta, fresh lemon and asparagus, chickpeas and creamy goat cheese to tie it all together.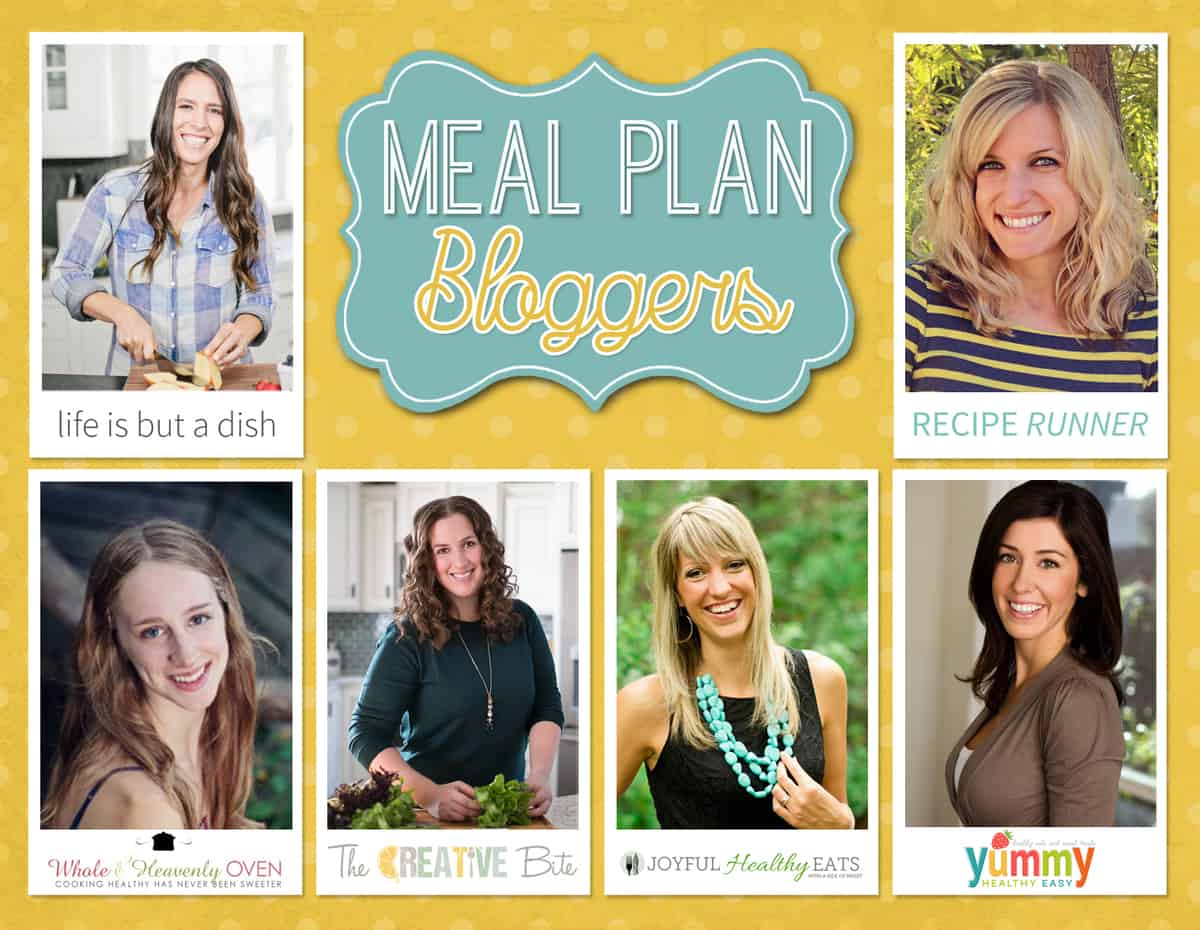 Life is but a Dish | Recipe Runner | Whole & Heavenly Oven | The Creative Bite | Joyful Healthy Eats | Yummy Healthy Easy