Today marks day one of a fun, new healthy meal plan! I'll be sharing this great roundup of meals from myself and five other bloggers – every Saturday morning with breakfast, lunch and dinner recipes for the entire week, every week! I hope you like it!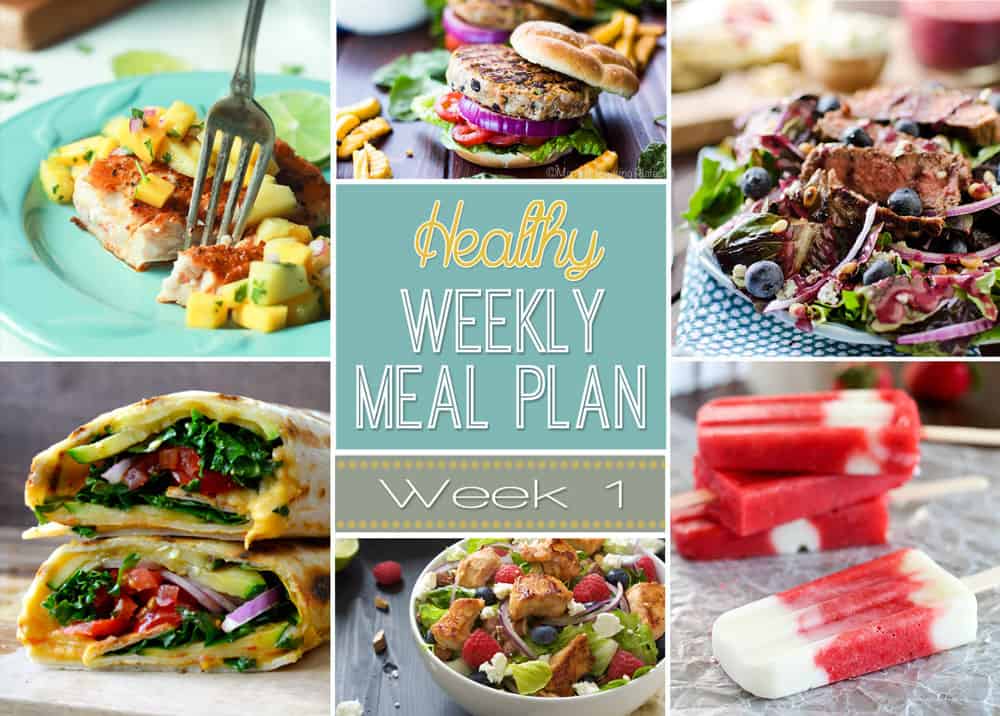 Welcome to the very first installment of our Healthy Weekly Meal Plan! Myself along with 5 other amazing bloggers have come together to make a collaborative meal plan every week that is not only healthy but amazingly delicious. We all know how hectic life can be and by being proactive and planning ahead with a menu, we can make eating healthy a whole lot easier. Stop back every Saturday morning to get your weekly meal plan full of daily entrees as well as a breakfast, lunch, snack and dessert!
Healthy Weekly Meal Plan

This veggie wrap with a grilled tortilla, zucchini and hummus is the perfect dinner idea for Meatless Monday paired with a fun Asian Cucumber Salad.

Beat the heat and fire up the grill outside with these fresh and easy shrimp skewers.

All the flavors of our favorite pizza but in a slimmed down dish! Spicy Pineapple BBQ Pork Lettuce Wraps are sweet, spicy and a quick dinner for an easy weeknight dinner.

With a homemade Blueberry Balsamic Dressing, bleu cheese and grilled steak, this salad is in flavor overdrive. It is the ultimate fresh, healthy and hearty meal.

Cajun Mahi Mahi with a fresh Mango Pineapple Salsa
This easy and healthy Cajun Mahi Mahi with Mango Salsa is the perfect weeknight dinner. In only 15 minutes, you have a wholesome and delicious meal on the table!

Lunch
What a better way to enjoy lunch on a warm summer day than with this salad loaded with chicken, almonds, fruit and goat cheese!
Dinner
Southwestern Turkey Burgers
This healthy twist on on a burger is bursting with flavor and protein from lean ground turkey and black beans.
Dessert
†With only 4 ingredients, these easy popsicles will cool you down and satisfy your sweet tooth.

Breakfast
These muffins skip the flour and use protein powder instead. Along with banana and peanut butter they make†the perfect protein packed breakfast.
Snack
A sweet mix of fresh fruit and your favorite Greek yogurt served with homemade baked cinnamon sugar chips for a sweet treat you can feel good about.
Dinner
These Skinny Chicken Enchilada Stuffed Chilies
Skinny Chicken Enchilada Stuffed Chilies have all of the flavor and none of the guilt. Zesty enchilada flavors are merged with the classic chile relleno to make this†a hearty and healthy Sunday dinner.
With Salt & Wit | Maebells | Mariah's Pleasing Plates | The Creative Bite | Joyful Healthy Eats | Yummy Healthy Easy