Get your shopping list ready because Healthy Weekly Meal Plan #15 is up and ready to go! Week 15 has lots of our families favorite breakfast, lunch, dinner, snack and dessert recipes we know you are sure to enjoy!
It's finally the weekend!! I don't know about you but by the time Friday rolls around, I'm 100% ready to take a break from the day to day schedules. What are you doing this weekend? I'm in San Diego celebrating my good friends' Birthday! We are planning on eating some good food today and I couldn't be more excited. 🙂
Are you ready to get planning? Myself along with 5 other super cool bloggers have come together to make a collaborative meal plan every week to take all the work and time consuming hours out of meal planning so that you can eat healthy meals without all the searching and planning. We have some really yummy entrees, snacks, and even a lunch option!
I am looking forward to the Creamy Butternut Squash Alfredo Pasta! Pasta is my weakness and I am so happy to see a lightened up version on the menu this week. Stop by every Saturday morning to get your weekly meal plan full of daily entrees as well as a breakfast, lunch, snack and dessert! Just click on the photo to see the recipe. Enjoy!
~ HEALTHY WEEKLY MEAL PLAN ~



These Quick and Easy Vegetarian Quesadillas are a healthy way to get dinner on the table FAST! You can be sure you will be a full serving of vegetables with corn, black beans, onions, salsa and veggie patties.

Chicken Udon Bowls are a Japanese chicken noodle soup! Made with juicy chicken, udon noodles, tender crisp vegetables all in a ginger broth with a bit of spice. An easy, yet delicious dinner!


Dinner
Greek Meatball & Veggie Skillet is a hearty but healthy skillet filled with lean ground beef and spinach meatballs and roasted vegetables, topped with feta for a delicious and wholesome dinner recipe the whole family will love!
Side Dish
This light Tomato Orzo Pasta with Zesty Basil Vinaigrette pairs perfectly with the hearty Greek Meatballs! Nutty orzo, juicy ripe tomatoes, all tossed in a flavorful basil dressing makes this the perfect side dish!

Perfectly Pan Seared Salmon topped with a nutty Brown Butter Sauce with subtle hints of fresh sage and nutmeg for one to die for bite. This Salmon recipe screams fall, takes less than 30 minutes to make, and is 300 calories a serving! You are gonna love it!


Chicken Broccoli Braid – crescent dough filled with a delicious mixture of chicken, broccoli, mayo and spices, all braided up into a fun braid. An easy dinner idea the whole family will love!

LUNCH
Harvest Chicken Quinoa Salad is a healthy and delicious lunch studded with chewy cranberries, juicy pineapple and salty pumpkin seeds along with the tender chicken & protein packed quinoa that are dressed in a homemade pineapple and honey vinaigrette.
DINNER
Creamy Butternut Squash Alfredo Pasta permeated with fresh sage and thyme then perfected with a garnish of salty bacon on top! This fall recipe is silky smooth, luscious, healthy and absolutely addicting.

DESSERT
Hello Coffee Lovers! This gluten free Coconut Mocha Snack mix is the perfect way to get your sweet fix without overloading on sugar!

BREAKFAST
Slow Cooker Pumpkin Peanut Butter Oatmeal is super simple and loaded with pumpkin, peanut butter, oats, cinnamon and touch of brown sugar for the perfect fall breakfast!
SNACK
Homemade Salted Caramel Almond Butter, made in 10 minutes with just 3 ingredients! This healthy spread is a delicious way to settle your cravings for sweets, guilt free!
DINNER

Forget the wings for gameday! This sweet and smokey Honey Chipotle Grilled Chicken is a delicious Summer dinner with just 6 simple ingredients!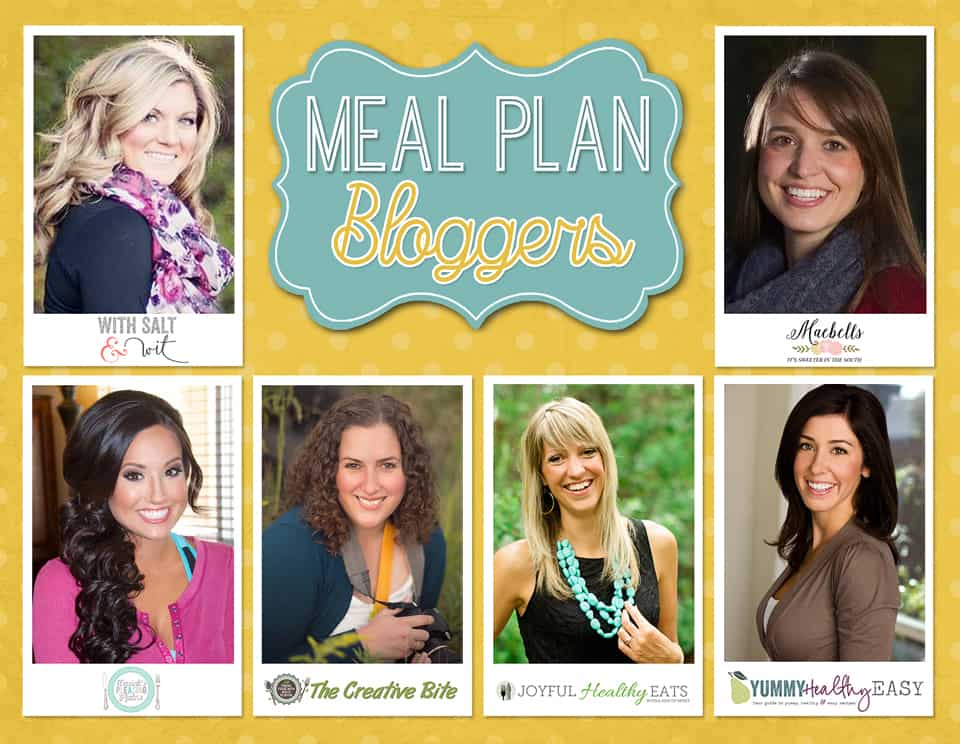 With Salt & Wit | Maebells | Mariah's Pleasing Plates | The Creative Bite | Joyful Healthy Eats | Yummy Healthy Easy