Healthy Weekly Meal Plan #31 is probably one of my favorite yet! Get a new dinner recipe every day plus a breakfast, lunch, side dish and even a healthy dessert recipe thrown in!
Happy Saturday! It's a busy day for us today. We have our baseball opening day, which includes a parade with every team decorating trucks or trailers and driving around an area with the kids in the back. There's also a carnival and team photos after. Since my husband is coaching my two little guys' t-ball team, guess who's in charge of decorating the truck for the parade?! Lucky me! 😉
I bought a ton of red and white stuff since our team is the Cardinals. Even though it's a lot of work, I know the kids are going to love it! I'll take pictures and post them later so you can see how it ended up looking. My oldest also has a baseball game at noon so it will be a super busy day full of baseball. I would love to hear what you're doing today!
I will definitely be leaving time for my grocery shopping trip after I get done with all the baseball stuff. I can't wait to try these dinners below! Be sure to stop back every Saturday for your weekly fix of daily entrees as well as a breakfast, lunch, snack and dessert! Just click on the photo or link to see the recipe.
~ HEALTHY WEEKLY MEAL PLAN ~

This 20-Minute Broccoli Garlic Fettuccine Alfredo is a comforting dish that comes together in only 20 minutes!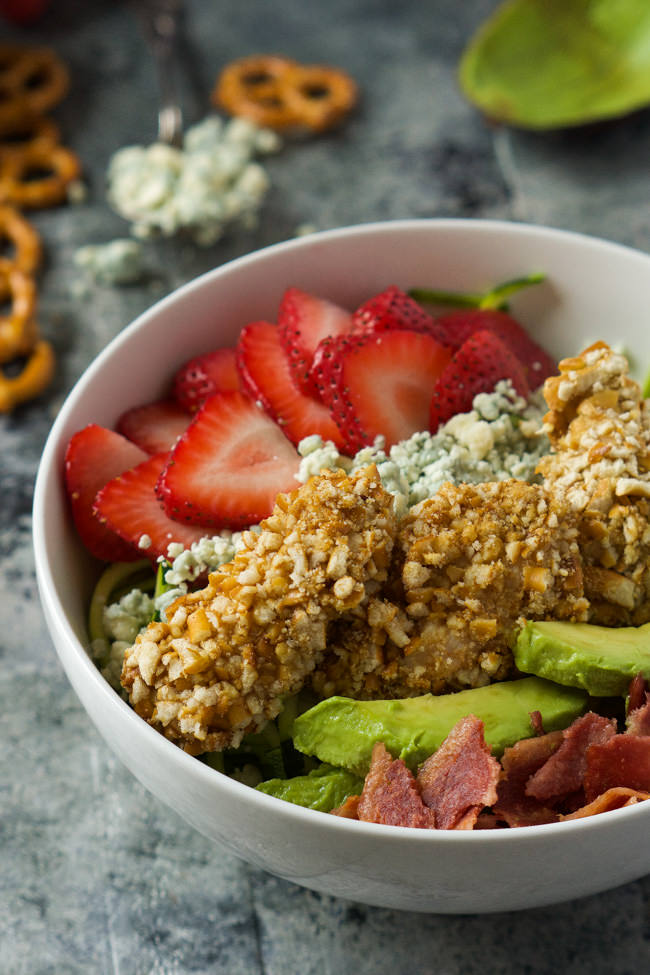 A fresh spiralized salad that is slightly sweet and spicy all in the same bite! This 20-Minute Broccoli Garlic Fettuccine Alfredo will step up your dinner time salad in no time!

DINNER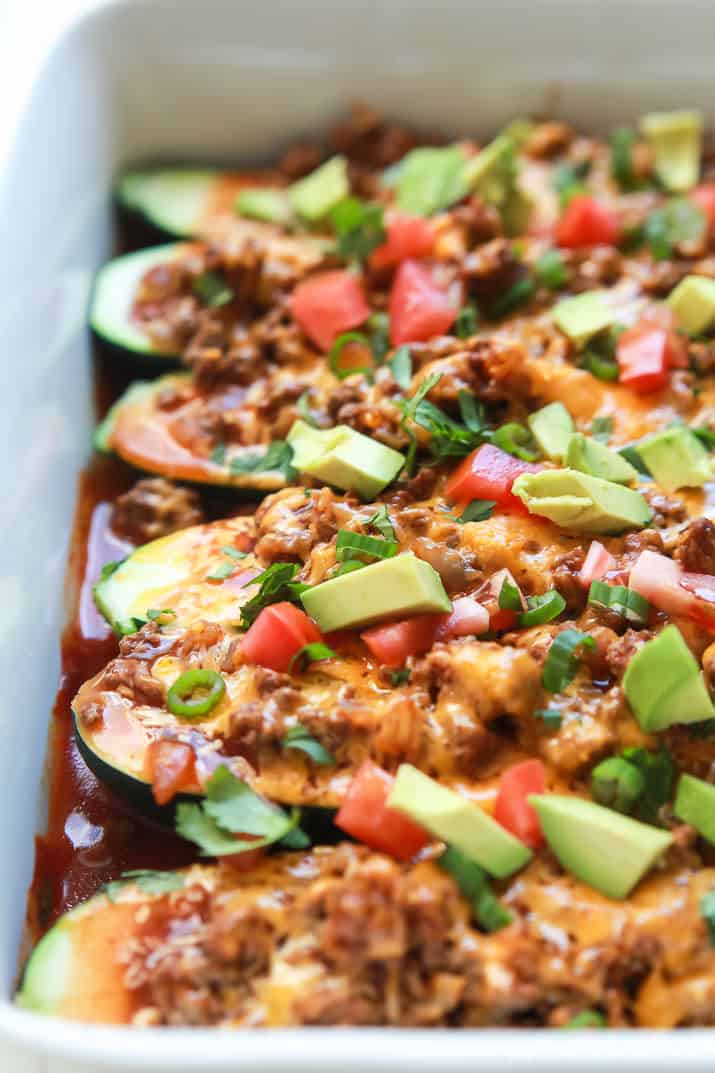 Ground Beef Enchilada Zucchini Boats are a healthy gluten free version of classic Beef Enchiladas that you'll fall in love with! A little over 30 minutes to make but well worth it for the bold flavors and low calorie count of 222 calories a serving!
SIDE DISH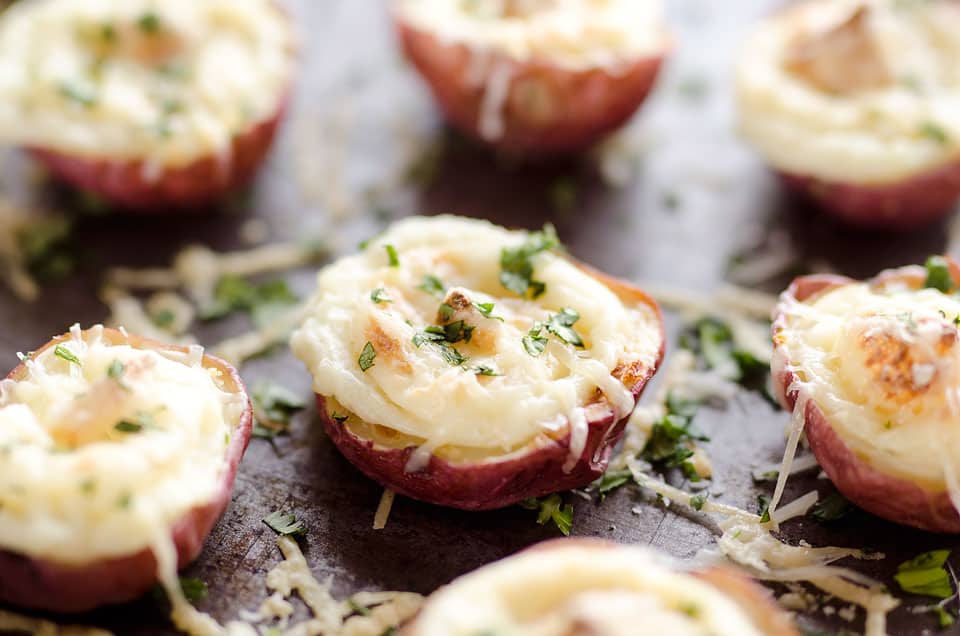 If you just NEED some carbs with your meal like myself, these Twice Baked Ranch Potato Poppers are the perfect side dish. They are a crowd-pleaser with light and fluffy ranch mashed potatoes and light sour cream in a potato skin topped with shredded Parmesan for the perfect bite.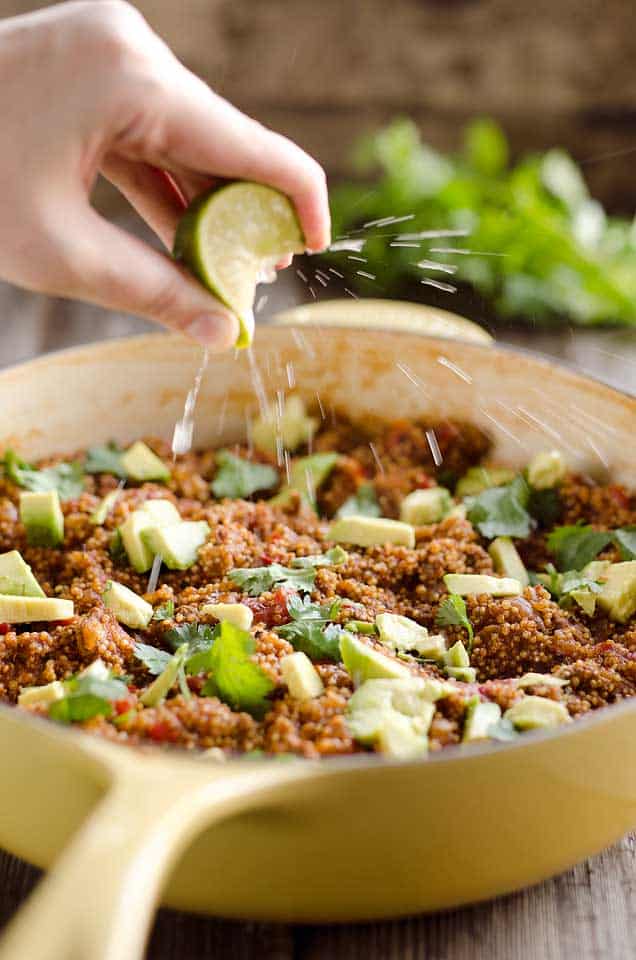 Light Taco Quinoa Skillet is a one pot dish with fresh flavors that makes an easy and healthy dinner!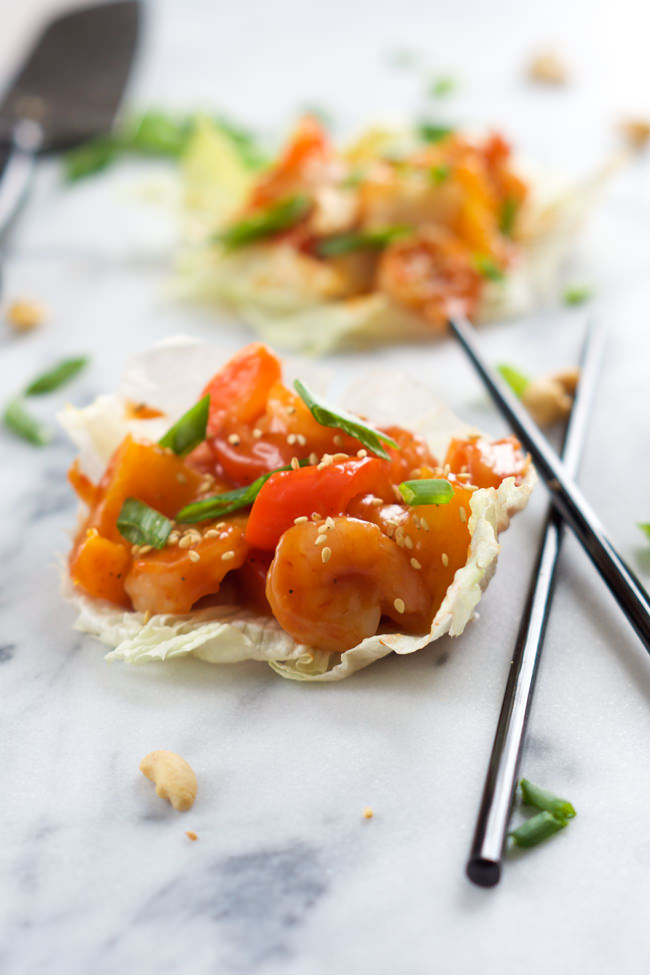 A healthy takeover make over! Skinny Sweet and Sour Shrimp Lettuce Wraps are full of Asian flavors, lighter and ready quicker than you can call take out!
BREAKFAST
No-Stir Make Ahead Bran Muffins are one of my favorite breakfasts ever! Make the batter up ahead of time and refrigerate until ready to bake. No need to ever stir the batter once you've refrigerated! These muffins are incredibly light, fluffy, flavorful and absolutely delicious!
LUNCH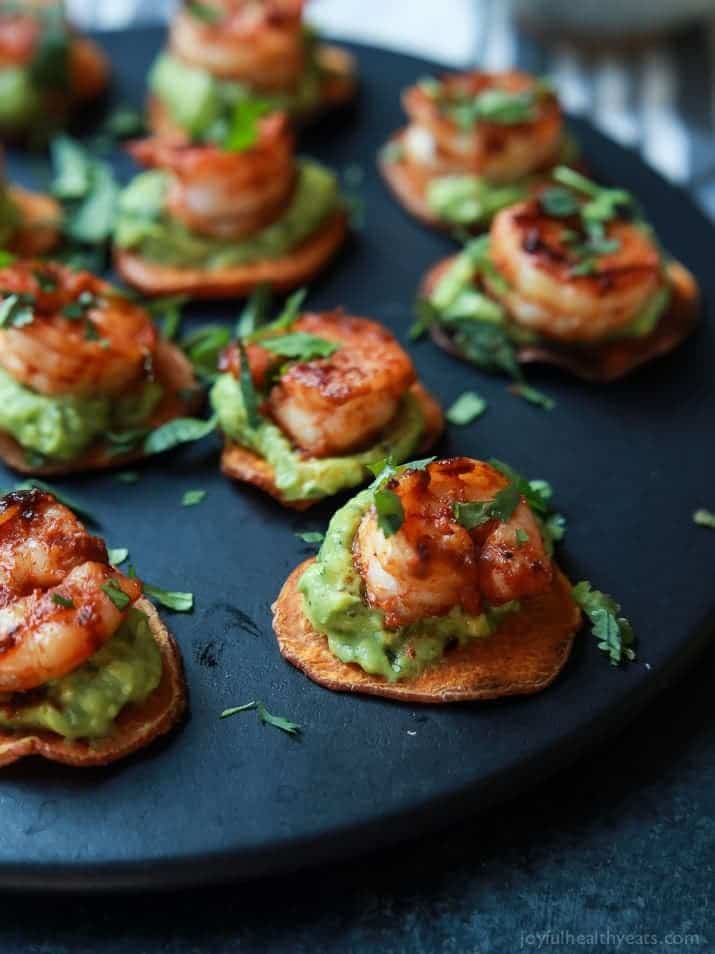 Cajun Shrimp Guacamole Bites are a light and delicious bite perfect for an easy lunch!
DINNER
These Chicken Bacon Ranch Mini Pizzas are an easy to make and tasty dinner or game day appetizer! Mini pizzas topped with ranch Greek yogurt dip, lots of cheese, chicken and of course bacon!
SNACK
Peanut Butter Mocha Energy Bites are so tasty not to mention vegan, gluten free, and the perfect combination of carbs and protein all in one little bite!
DINNER
Easy Baked Italian Chicken, Potatoes & Green Beans is a quick and easy dinner the whole family will love and perfect for a cozy Sunday night in!
DESSERT
These fudgy Flourless Almond Butter Brownies whip up easily in one bowl and each brownie only contains 125 calories! They are so good you will be coming back for more!