Healthy Weekly Meal Plan #33 is filled with healthy main dishes to add to your dinner rotation. Plus a breakfast, lunch, snack and even an amazing dessert, too!
Welcome yet again to another Healthy Weekly Meal Plan! It's Saturday so that means it's time to plan out your meals for the week. What are you up to today? I know you probably get sick of me saying it, be we have baseball all day long again today. Even though it rained like crazy yesterday, today it's all dried up and we can play.
Don't get me wrong, I love watching my boys' play baseball. It really is so much fun. But I have to fit in my grocery time! I love being able to plan my meals out ahead of time. It really saves me time and money. I go to the store one time per week and get all the ingredients for the meals for that week. Then I'm prepared for every dinner and am never wondering what to make. And more importantly, I don't make those last minute runs to the grocery store where you end up spending $150 and you don't even know what you bought! I hope you're enjoying these healthy weekly meal plans like I am!
This Healthy Weekly Meal Plan has so many great healthier main dishes to choose from as well as a breakfast, lunch, snack and even an amazing dessert, too! As always, make sure to click on the picture or the text link under the picture to get you to the recipe. Have a great week everyone!

This Coconut Chickpea Curry features chickpeas in a creamy curry sauce and is wonderful served over rice. Quick, easy and absolutely delicious!

Light & Creamy Roasted Poblano Chicken Soup is a surprisingly healthy dinner full of bold flavor and spice from roasted poblano peppers, onion, carrots and tender chicken, then finished off with pepitas for a delicious crunch!

These Cincinnati-Style Turkey Spaghetti Squash Boats are loaded to the max with lighter turkey chili and plenty of gooey cheese on top!óAn easy and healthier way to enjoy Cincinnati-style chili.

Loaded Baked Potato Gnocchi is a creamy one pot meal with a luscious parmesan sauce, crisp bacon †and topped with green onions. A healthier and new take on a loaded baked potato!

MAIN DISH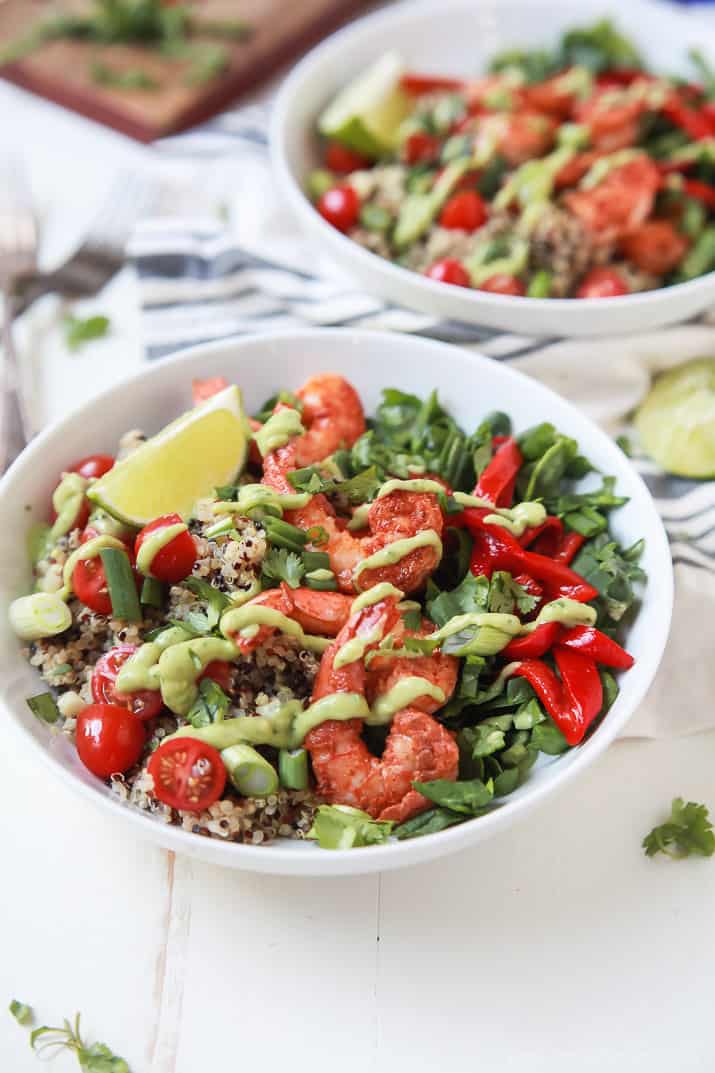 Blackened Shrimp Quinoa Bowl topped with a silky Avocado Crema ñ an easy, delicious, gluten free recipe that can be on the table in just 30 minutes
SIDE DISH
These Rainbow Jello Cups are a fun treat to share for a side dish, snack or dessert! Only two ingredients!

BREAKFAST
These kid and adult friendly Baked Apple Cinnamon Oatmeal Cups are a great grab-and-go breakfast or snack! Theyíre full of healthy ingredients, gluten-free and have a vegan option as well.
SNACK
Ultra-soft and moist Double-Chocolate Banana Snack Cake†with a double-whammy of chocolate and surprisingly lighter on the calories too!óHave two or three pieces without the guilt.
DINNER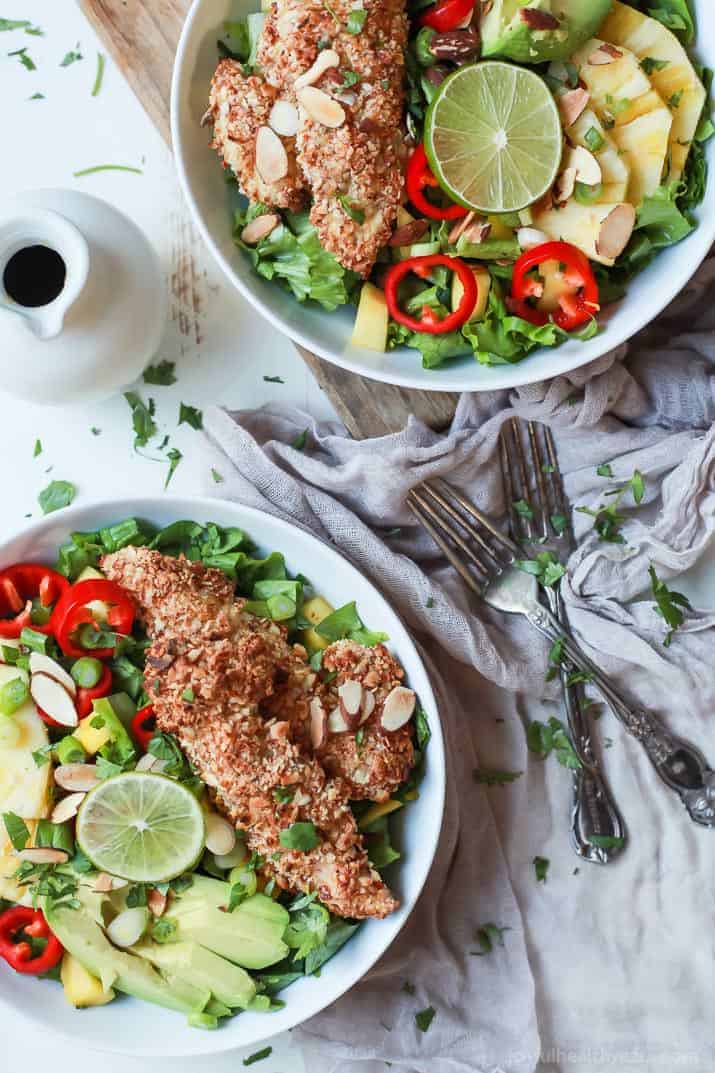 Change up your salad game with this Tropical Coconut Chicken Salad filled with fresh exotic†fruits and homemade chicken tenders. Itís a swoon worthy salad thatíll take you to the beach and youíll want to repeat all week!

LUNCH
Pepperoni Chicken Fingers with pizza sauce are a healthy and wholesome snack or meal for both kids and adults. With only 3†ingredients, this easy meal or appetizer comes together in less than 30 minutes!
DINNER
Save money and calories by making your own Chinese takeout! This Honey Sriracha Sesame Chicken is equal parts sweet and spicy and over the top delicious!
DESSERT
Mint Cheesecake Stuffed Chocolate Chip Cookies are filled with a creamy, mint cheesecake mixture that is perfect for your sweet tooth or any party!
With Salt & Wit | Recipe Runner | Whole & Heavenly Oven | The Creative Bite | Joyful Healthy Eats | Yummy Healthy Easy