Healthy Weekly Meal Plan #51 will inspire you to eat healthy! You get a dinner idea for each night plus a lunch, snack, side dish and dessert recipe.
Happy Saturday! How are you this week? Any new, exciting things happening? We're in the midst of summertime activities. This summer has been so busy. My boys are doing lots of sport camps and it's been a ton of driving. I feel busier this summer than I was during the school year!
Today we have a basketball game for my oldest and then we might go to the beach. I feel so lucky that I can just head to the beach at any moment. It's only about 10 minutes away! I also need to go to the store today and get all the ingredients for this week's healthy weekly meal plan. Those lettuce wraps are calling my name!
Are you enjoying the weekly meal plans like I am? It's so nice to have all my dinners planned plus a breakfast, lunch, snack and dessert! To get to the recipe, just click on the photo or link. Enjoy and happy weekend!
~ HEALTHY WEEKLY MEAL PLAN ~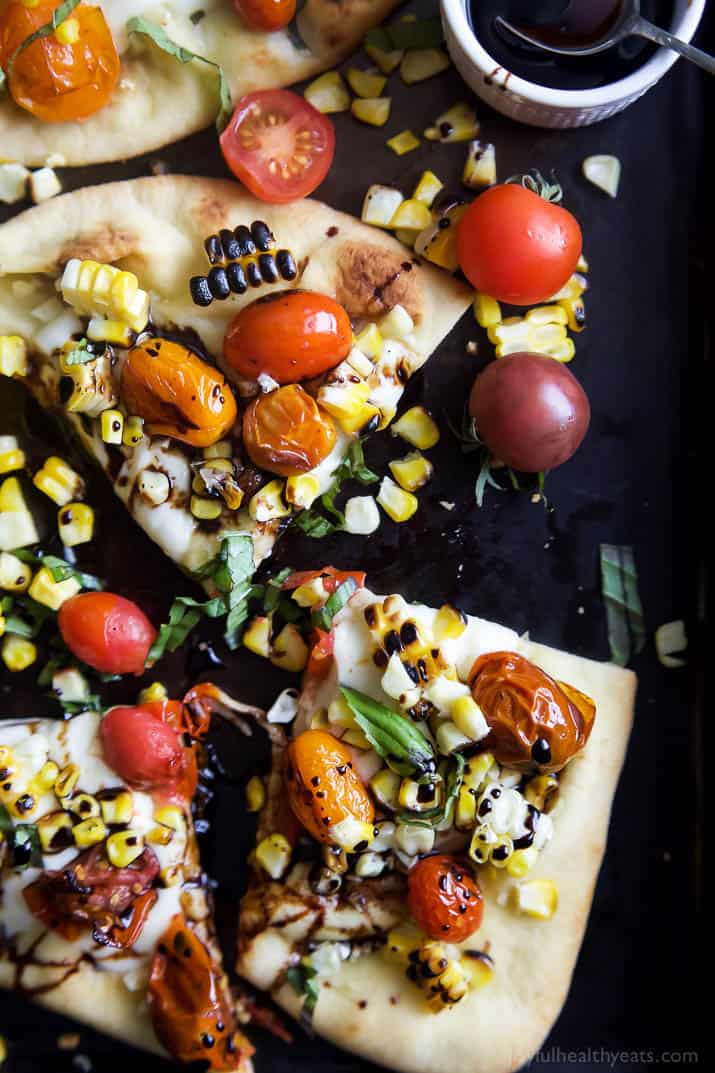 An easy delicious Charred Corn Caprese Flatbread topped with sweet Balsamic Reduction ñ it screams summer, takes 30 minutes to make, and uses less than 10 ingredients!
Turkey Thai Peanut Lettuce Wraps are a light and healthy dinner idea packed with filling ground turkey, fresh vegetables and crunch peanuts. You will make this easy 15 minute recipe over and over because it is just so easy and delicious!

Hawaiian BBQ Pork Tacos are filled with crispy, spiced pork and topped with an irresistible and juicy Pineapple Pico de Gallo! The ideal summer street taco!

Change up your enchilada game and stuff your filling in spaghetti squash instead!†You wonít miss the tortillas or time spent rolling up the enchiladas when you make this Green Chile Chicken Enchilada Stuffed Spaghetti Squash!

This Bacon & Berry Kale Salad with Honey Lemon Vinaigrette is a summertime superfood salad! Fresh kale tossed in a honey lemon vinaigrette and topped with fresh berries, creamy avocado, and crispy bacon!
BREAKFAST
Sweet roasted cherries, crunchy granola and a little dark chocolate are the perfect toppings for this Roasted Cherry Yogurt Bowl with Granola!
LUNCH
Parmesan Ranch Turkey BLT Pita is an easy 5 minute†lunch loaded with bacon, spinach, tomato, turkey and a delicious Parmesan ranch. This healthy sandwich recipe is perfect for a quick summer lunch everyone will love!
DINNER
You will love these Fish Tacos with Mango Salsa! Corn tortillas filled with flaky white fish and topped with fresh mango and avocado salsa.
SNACK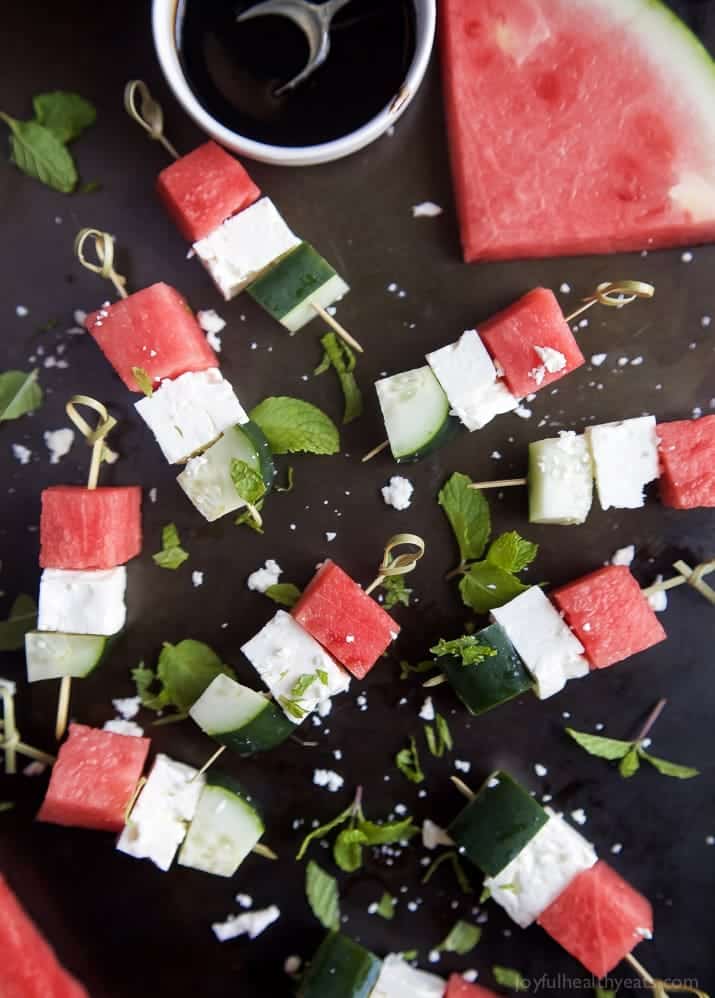 Watermelon Feta Bruschetta, the easiest appetizer recipe youíll ever make! Watermelon, Cucumber, and Feta Cheese all skewered together and topped with a sweet Balsamic Reduction thatíll blow your mind.
DINNER
Shredded Beef Sandwiches are one of my familyís favorite slow cooker†dinners! Cooked right in the crock pot†with an easy & flavorful sauce, makes this beef roast tender and perfect for†filling sandwiches/buns!
SIDE DISH
This bubbly and colorful Sparkling Mixed Berry Kiwi†Sangria is so easy to make youíll find yourself making it all summer long! Perfect for entertaining or for just a casual weekend sipper.
DESSERT
This springy lemon poppyseed bundt cake is so soft and moist inside, youíd never guess its lighter on the calories! A showstopping springtime dessert youíll make over and over again.