Healthy Weekly Meal Plan #56 has some incredible healthy dinner recipes for you to try this week (even a vegetarian option and seafood option)! Plus a breakfast, lunch, snack, side dish and drink recipe too. So many great healthy recipes all in one place for you!
Happy Saturday!! Any fun plans tonight? We're going to my 12 year old's first football scrimmage game first thing this morning. I'm excited to see him play! And then we're off to a birthday party for my youngest son's friend. Then the grocery store so I can get groceries from the meals in this weeks healthy weekly meal plan. Our weekends are always so busy, it's crazy!
Yesterday as I was leaving Pei Wei with all four of my boys, a mom stopped me and said, "you have four boys?" to which I answered yes and she said "that's wonderful! I have three boys! I just took my oldest to college and my house is so quiet. Enjoy them while they're young because it goes by way too fast." We ended up talking for several more minutes.
It was such a good reminder to me to enjoy this time I have with my boys. Some days are hard because I have little (and not so little) people talking my ear off all day long or fighting, or asking me for things, etc. The list goes on… but these days are already going by so quickly and I need to appreciate these little people more because soon they'll be out on their own in the world.
Deep thoughts by Jen today, lol! Anyway! I've got your heathy weekly meal plan ready for you and you are going to love it! Make sure to click on the picture or the text link under the picture to get you to the recipe. Have a great week!

Asian Noodle Salad with a Spicy Sesame Dressing is easy to make, low in calories and bursting with flavor. Once you try this you'll be craving it all the time.

Honey Balsamic Glazed Chicken Quinoa Bowls are a hearty and flavor meal! Juicy chicken is coated in a sticky, sweet balsamic glaze then paired with fluffy quinoa, creamy goat cheese, and fresh cherries. A perfect make ahead meal!

Turkey Bruschetta Burgers are juicy burgers served on toasted french bread with parmesan cheese and topped with fresh tomato basil salad!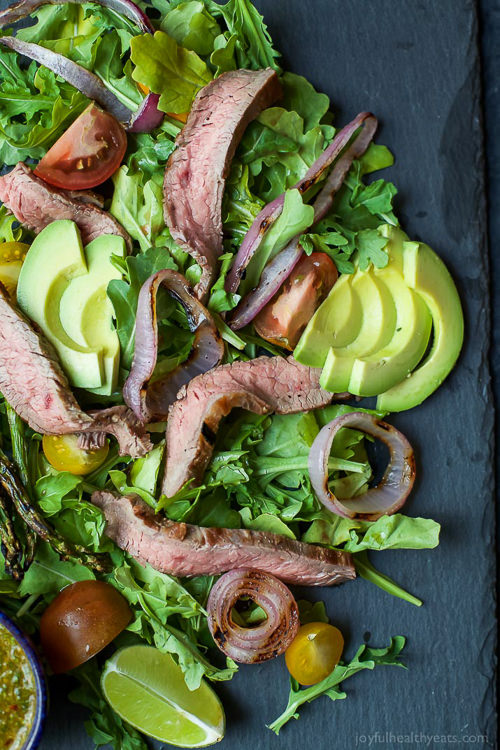 A paleo California Steak Salad filled with grilled onions, arugula, avocado, asparagus, charred Steak and covered in zesty Chimichurri Dressing. Fresh, light, high in protein and freakin delicious! You need this!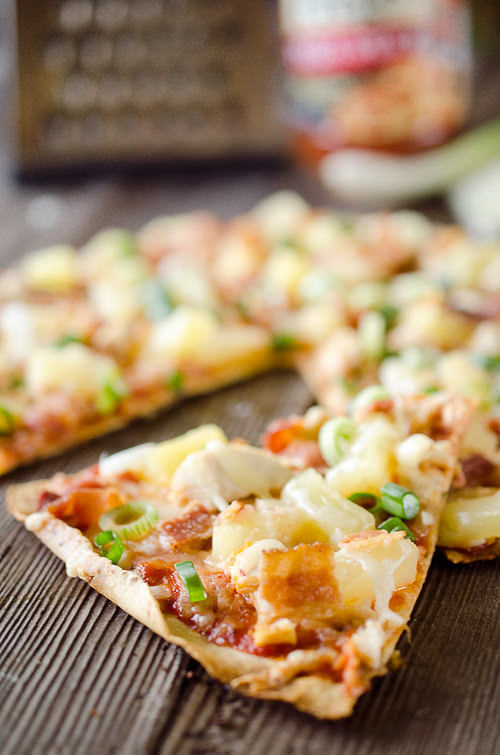 Light Pineapple, Chicken & Bacon Pizza is an easy and healthy dinner for two with juicy pineapple, sharp Manchego cheese shredded chicken and crisp bacon on a thin and crispy tortilla crust.

BREAKFAST
Overnight Oatmeal that's packed full of protein, fiber, and fruit. No-bake, with only 252 calories! Perfect breakfast to grab on the go!
DRINK
Iced Coconut Milk Mocha Macchiato is just how I want to start each day or give my afternoon a java jolt! Creamy coconut milk swirled with rich chocolate and topped with espresso. So fancy you will be calling yourself a barista!
SNACK
Protein Peanut Butter Truffles are an amazing 100 calorie treat with only 5 ingredients. They are packed with 5 grams of protein for healthy a dessert you can feel good about!
DINNER
Kicked up chipotle crockpot beef tacos piled high with a fresh greek salsa and the most amazing avocado crema ever! Meet your new favorite taco.

LUNCH
Avocado Chicken Salad Wrap – a perfect blend of avocado, Greek yogurt, chicken, celery, grapes, red onion & spices to make your lunch complete! This healthy recipe only takes a few minutes to whip up!
DINNER
Tender grilled salmon with a smoky rub on the outside is a match made in heaven for a sweet corn pico de gallo piled on top. — This easy 30-minute dinner packs in a HUGE kick of flavors you'll love!
DESSERT
Loaded with chopped almonds, chocolate chunks and a touch of sea salt, this dairy-free Salted Double Chocolate Ice Cream is a salty-sweet chocolate lover's dream come true and a must make this summer!
Have a great week and don't forget to stop by next Saturday for another Healthy Weekly Meal Plan!
With Salt & Wit | Recipe Runner | Whole & Heavenly Oven | The Creative Bite | Joyful Healthy Eats | Yummy Healthy Easy