Healthy Weekly Meal Plan #59 – plan out your healthy dinner recipes for the week! Plus a healthy breakfast, lunch, side dish, snack and dessert recipe, too! So many yummy recipes in this week's meal plan!
You guys! I'm writing this post while I'm in the gorgeous Kauai, Hawaii! Not even joking. Remember all this posts where I whine about being so busy and that my kids schedules are insane? Well, this week is the opposite!
My awesome sitter Jesse and my sweet mom are holding down the fort for me so that I can be here on this gorgeous getaway with 9 other amazing food bloggers! What a fantastic opportunity to learn and feel inspired. The food here so far has been incredible. I got here on Wednesday and have yet to have a dish that I didn't enjoy. Seriously the Hawaiians know how to eat, that's for sure! I get back home next Wednesday and I will be sure to plan out my meals using this Healthy Weekly Meal Plan because I'm pretty sure I'll come back a few pounds heavier. yikes! 😉
I hope you're enjoying these healthy weekly meal plans! We love putting them together for you! As always, be sure to stop back every Saturday for our healthy weekly meal plan full of daily entrees as well as a breakfast, lunch, snack and dessert! Just click on the photo or link to see the recipe!
~ HEALTHY WEEKLY MEAL PLAN ~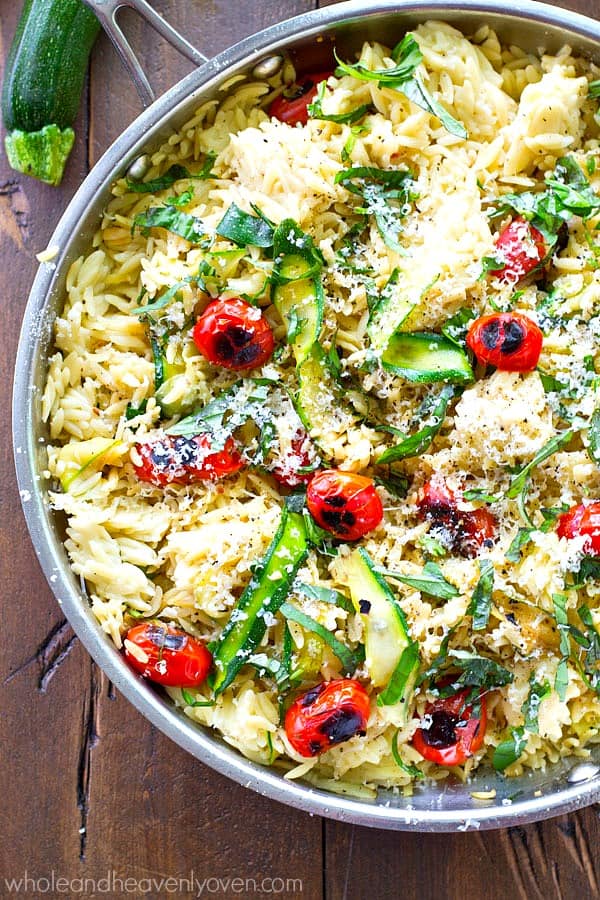 This healthy veggie-loaded orzo skillet is a veggie-lover's dream! Ready in less than 30 minutes and perfect for a quick summer weekday dinner or lunch!

MAIN DISH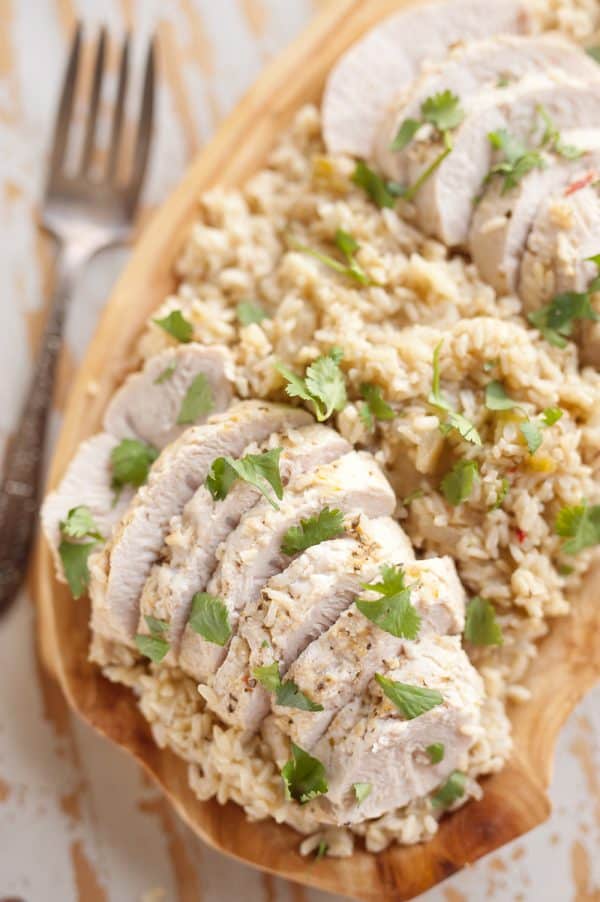 Pressure Cooker Turkey Verde & Rice is an easy 40 minute recipe made in your Instant Pot with only five ingredients! This healthy dinner idea is packed with bold flavor from salsa verde and full of wholesome brown rice and tender turkey tenderloins for a quick and delicious meal you will love.
SIDE DISH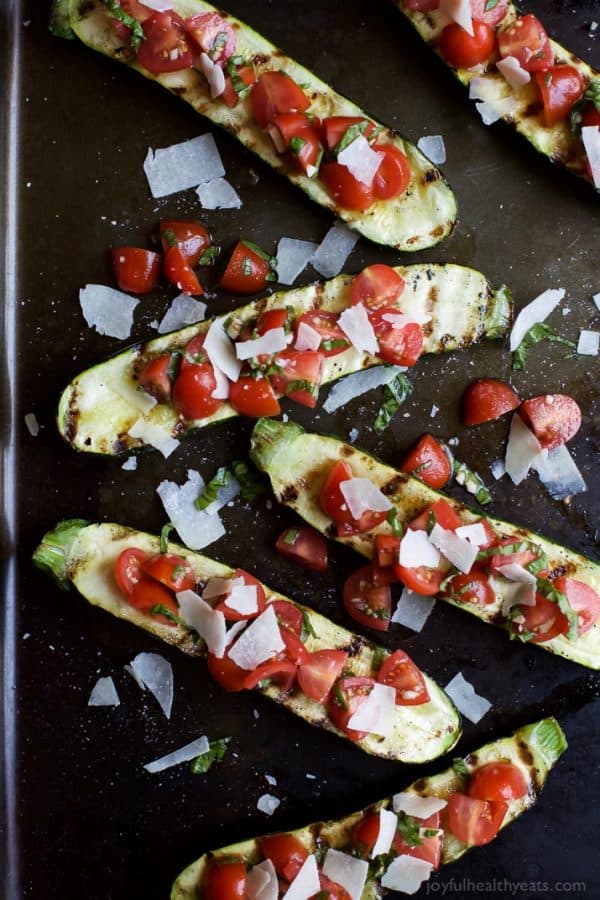 Incredible Crispy and tender Grilled Zucchini topped with a fresh Tomato Basil Bruschetta and Parmesan cheese. The ultimate side dish that will quickly become a family favorite!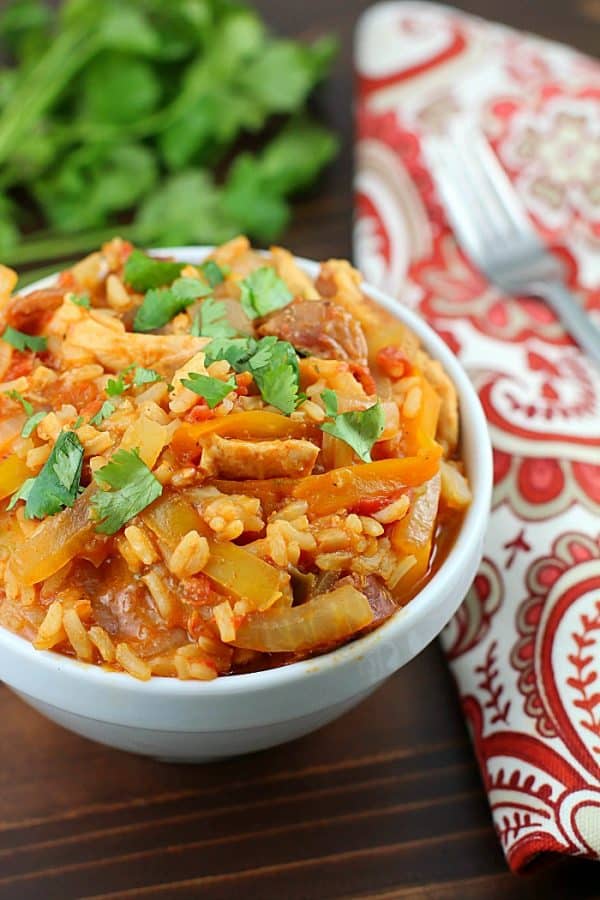 Chicken Jambalaya cooked in the slow cooker that's low calorie, tastes great and fills you up! Using lean proteins, (sliced chicken breasts and turkey sausage) sliced up onions and bell peppers, and rice mix makes the recipe super easy. So tasty and with few ingredients!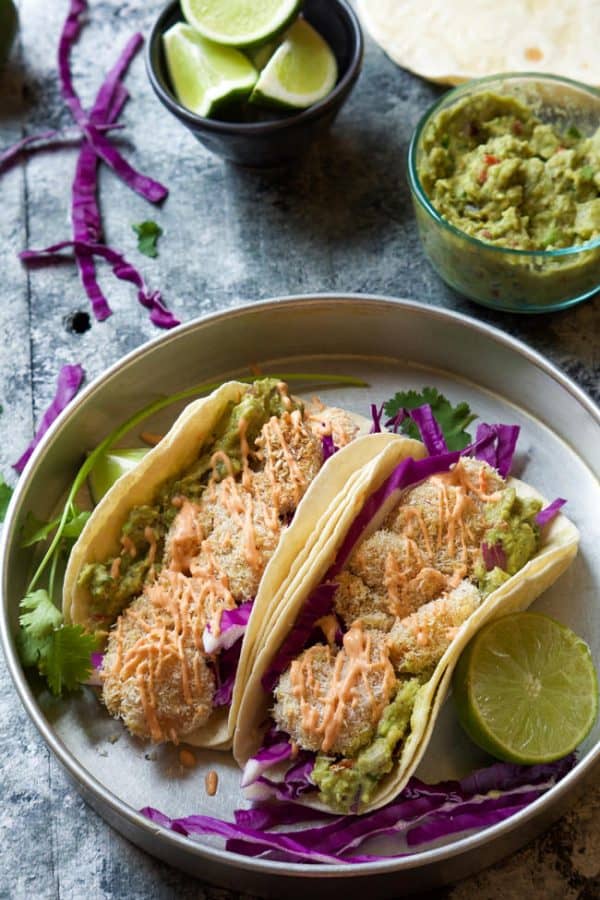 A skinny makeover of a restaurant classic! Skinny Baked Bang Bang Shrimp Tacos combine two of my favorites into one flavorful dish that is ready in 20 minutes!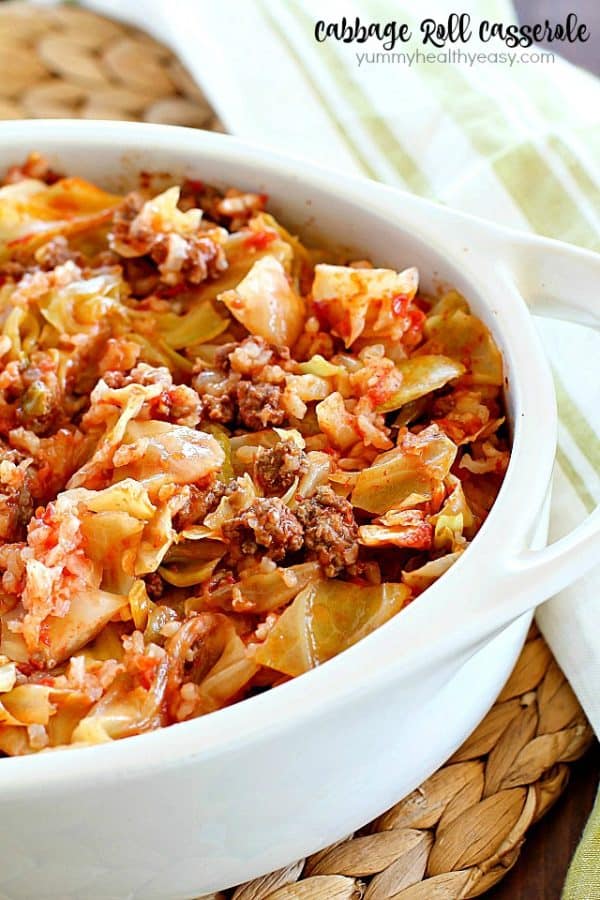 Cabbage Roll Casserole is much easier than making traditional cabbage rolls! This yummy casserole is slowly baked and full of ground beef, rice and cabbage in a light tomato sauce. Hearty, simple to make and delicious!

SNACK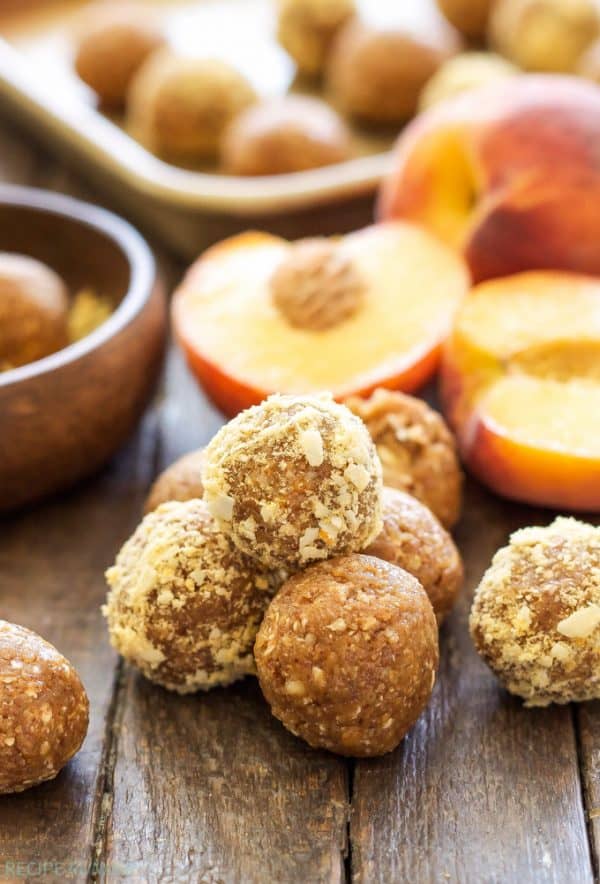 Freeze dried peaches give these Peach Pie Energy Bites an extra peachy flavor! A healthy, gluten-free, vegan, protein filled snack for peach lovers!
DINNER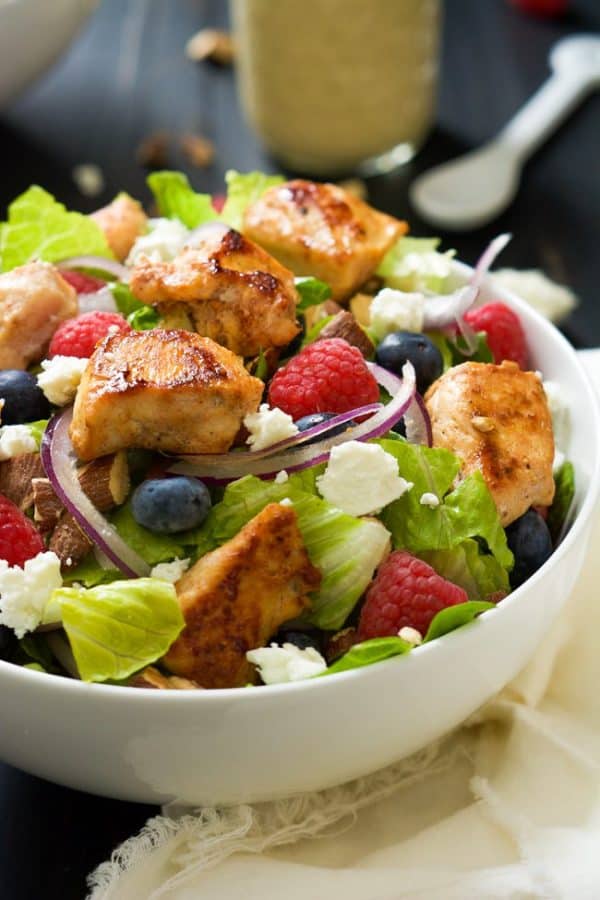 A hearty Chicken Salad with Peanut Dijon Dressing that is filled with fruit, creamy goat cheese, smoked almonds that is a nutritious dinner or lunch!
DESSERT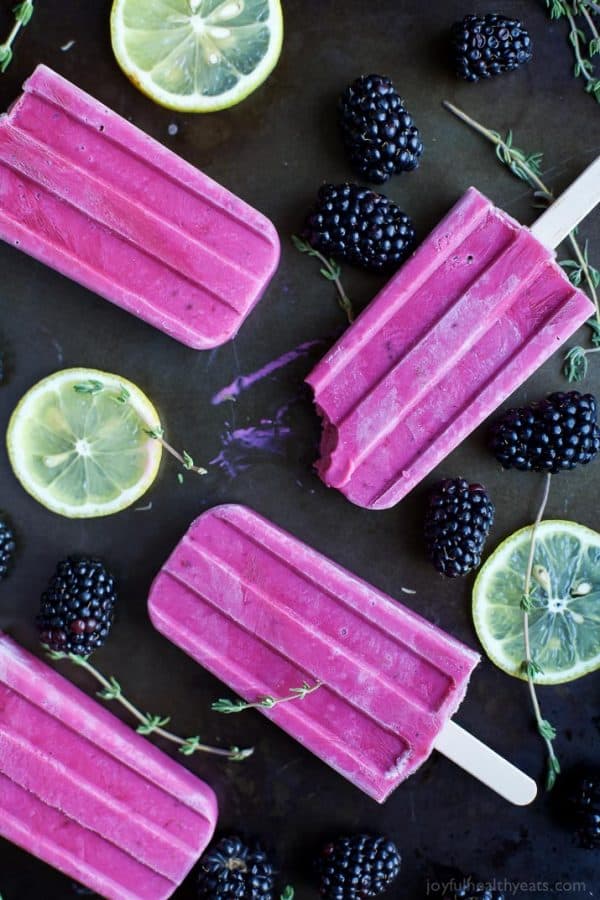 Blackberry Thyme Yogurt Popsicles, a frozen treat that will make your taste buds dance with excitement! Less than 5 minutes to make, 5 ingredients and under 75 calories a serving! Woot!

BREAKFAST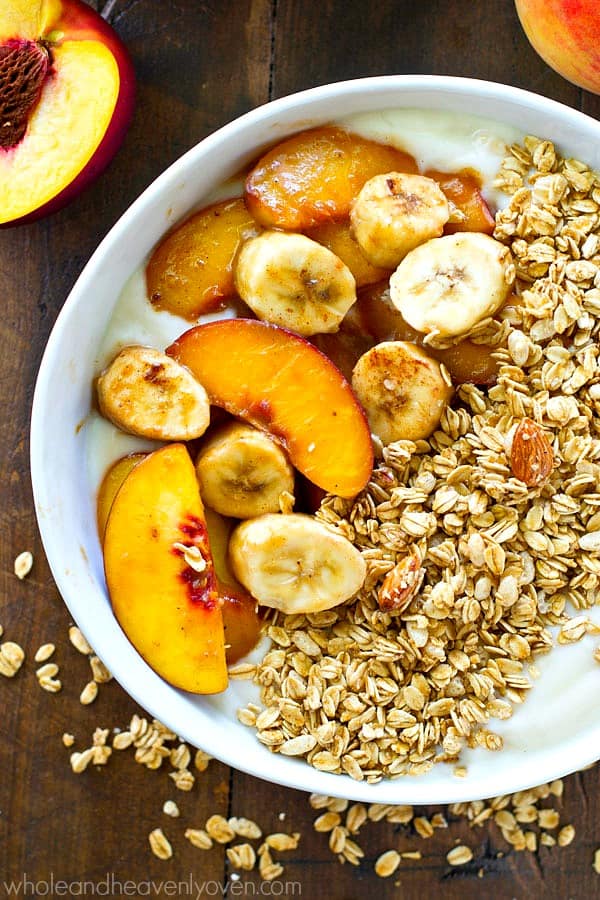 Ready for the ultimate power-packed summer breakfast? These granola yogurt bowls are piled high with warm caramel-y bananas and peaches and the EASIEST weekday breakfast ever!
DINNER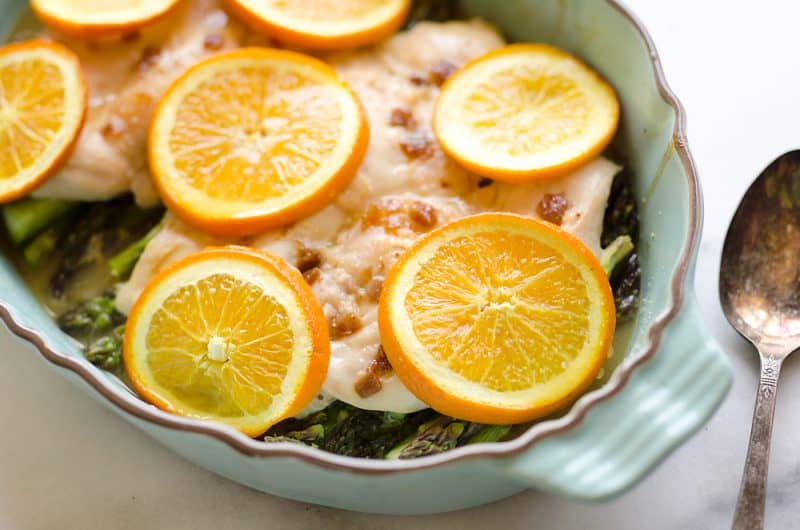 Fig & Orange Chicken Asparagus Bake is an easy and healthy one pot recipe with fresh and flavorful ingredients. Oranges, ginger and goat cheese compliment the tender chicken breasts and asparagus for a wholesome gluten-free meal you will love.
SIDE DISHES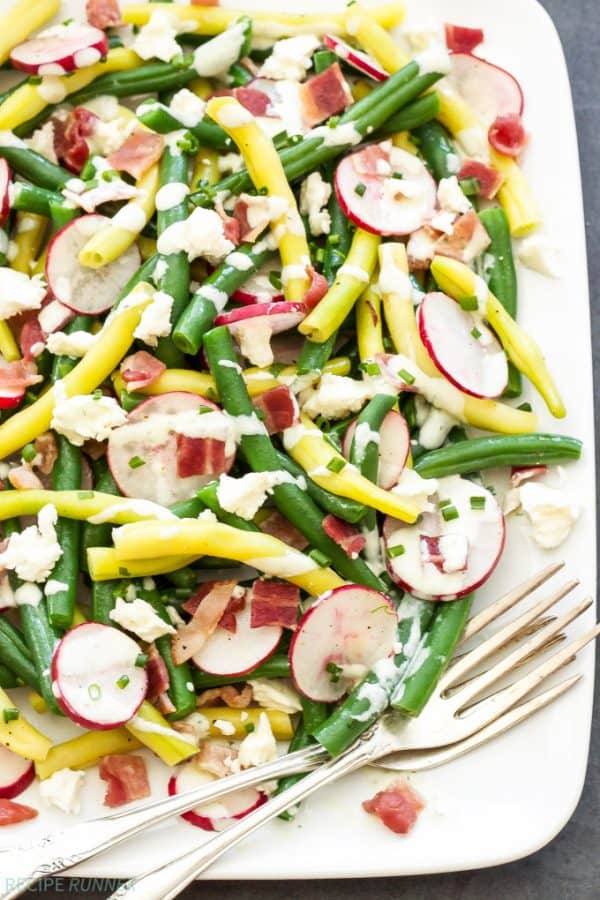 Crisp, crunchy and full of flavor is exactly what this Green Bean, Radish and Bacon Salad with Creamy Feta Dressing is! The perfect summer salad!
With Salt & Wit | Recipe Runner | Whole & Heavenly Oven | The Creative Bite | Joyful Healthy Eats | Yummy Healthy Easy