Healthy Weekly Meal Plan #57 is full of delicious healthy dinner recipes but also includes a healthy breakfast, lunch, side dish and dessert! So many yummy good-for-you recipes all in one place to make your meal planning super easy!
Happy Saturday!! It's healthy weekly meal plan time again! How's your weekend going? We have another busy one here. I'm up bright and early this morning to drop my oldest son and a friend at the pier to fish and then bring my two little ones to their very first flag football game! I'm pretty sure they're the youngest on the team and have very little clue what's going on, but they're having fun and that's what counts, right?
After the game, it's registration time for my two youngest. I'm not sure why they chose to do a Saturday registration? Kinda strange to me but after that, all four of my kids will be registered, yay! School starts on Monday and I am so excited!! Not excited for the homework, but glad to have the schedule back, you know? After registration, I get to see my 12-year old play his first football game of the season. Can't wait!
Finally, after his game I'll head to the grocery store. I'm excited to get all my meals planned for the week. This week's healthy weekly meal plan is amazing. SO many delicious & healthy recipes all together in one place for you to use. It will be nice to not have to worry about what to cook for dinner after my boys get home from school and/or football practices. 😉 I hope you're enjoying these healthy weekly meal plans like I am!
As always, be sure to stop back every Saturday for our healthy weekly meal plan full of daily entrees as well as a breakfast, lunch, snack and dessert! Just click on the photo or link to see the recipe!
~ HEALTHY WEEKLY MEAL PLAN ~

Take your dinner outside with this Southwestern Grilled Sweet Potato Salad! Sweet potatoes caramelize on the grill and then mixed with black beans, charred corn, jalapenos, red pepper, onion and dressed with lime and cilantro. Try it hot off the grill or chilled.

MAIN DISH
The most incredible Orange Chicken Stir Fry with pan seared, bite-sized chicken, red bell peppers, onion and a delicious sweet and savory sauce served over rice.
SIDE DISH
A skinny and refreshing summer treat made with sugar free lemonade and cherry vodka. A grown up Spiked Cherry Lemonade Slushie that will be perfect for hot summer days!

Ground Turkey Tacos that are oven-baked with layers of deliciousness inside! Refried beans, ground turkey taco meat, (no taco seasoning mix!) tomato, cilantro, green onions and cheese all baked in taco shells. Perfect for Taco Tuesday or for game day!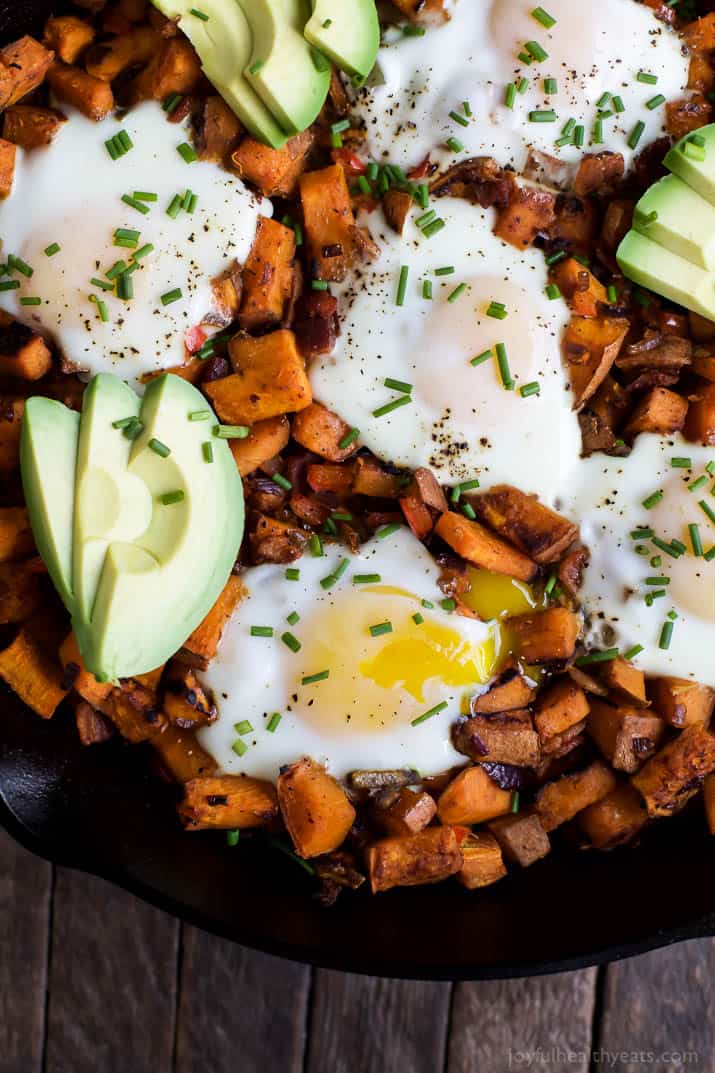 Smoky Bacon Sweet Potato Hash & Eggs is a great 30 minute recipe that's paleo & gluten free! I guarantee you'll want to devour it for breakfast, lunch, and dinner!

Overflowing with those garden veggies? You've GOT to try this incredible Grilled Garden-Style Panzanella Salad that's loaded with a rainbow of veggies, tons of grilled croutons, and an herby vinaigrette.

SNACK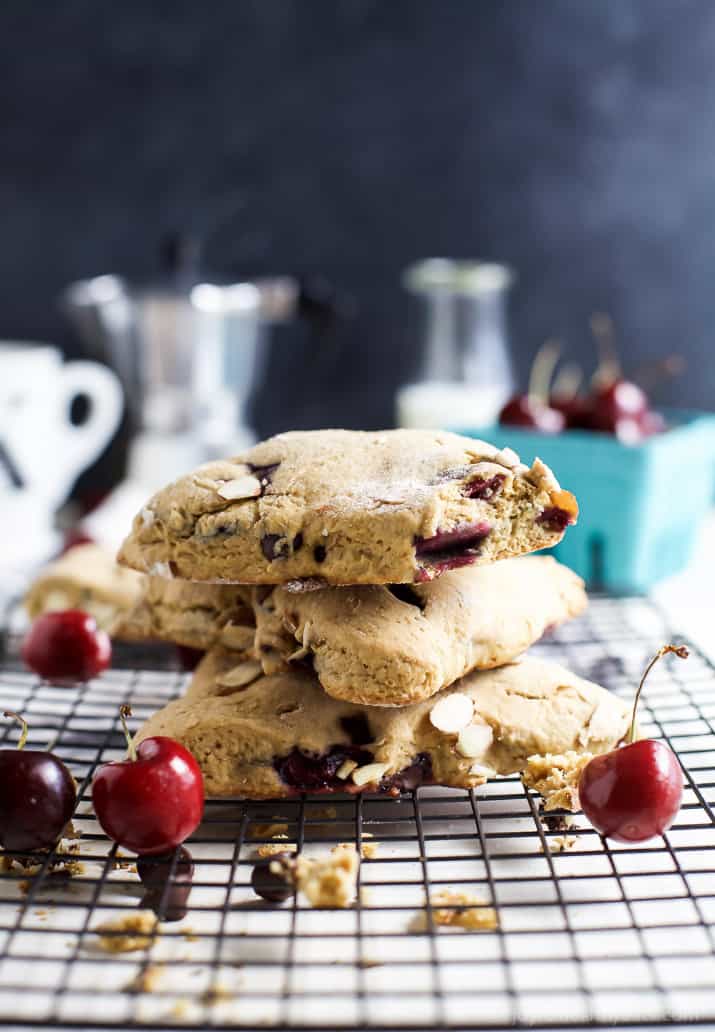 The easiest scone recipe you'll ever make, because it's made in a blender!! Almond Chocolate Cherry Scones, loaded with flavor and CHOCOLATE! These scones are the perfect quick breakfast and your coffees new best friend!
DINNER
Make good use of those farmer's market green beans with this incredible Green Bean Salad that's packed with cherry tomatoes, crumbly feta, and an insanely-flavorful avocado green goddess dressing.
DESSERT
Light Peach & Berry Tart is a lightened up dessert loaded with an orange, cream cheese and Greek yogurt layer and topped with fresh peaches and berries for a spectacular sweet!

BREAKFAST
Whole wheat, tender, fluffy, Zucchini Bread Pancakes not only taste delicious, but are good for you as well! Top them with the maple cream cheese topping for a decadent and delicious breakfast!
LUNCH
These vegetarian Greek Pita Pizzas make a healthy and delicious dinner or lunch that you will be obsessed with!
DINNER
Mediterranean Tuna & Quinoa Cakes are a quick and easy dinner recipe that is not only healthy, but satisfying and delicious! Made with super foods like tuna and quinoa and piled high with Greek yogurt, cucumbers and tomatoes, this dish will be leaving you begging for more.
With Salt & Wit | Recipe Runner | Whole & Heavenly Oven | The Creative Bite | Joyful Healthy Eats | Yummy Healthy Easy